Posted on
Cruise Line officials praise PM for opening dialogue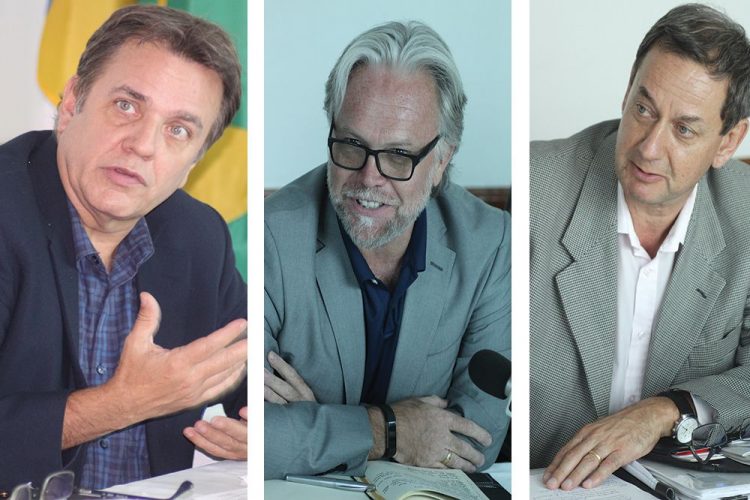 On Saturday, December 2, Royal Caribbean Cruises Ltd's "Celebrity Summit" cruise ship, will stop at the Cruise Ship and Ferry Berth in Kingstown.
But while Royal Caribbean's visit is guaranteed, Carnival Cruise Line and Disney Cruise Line have still not committed to adding this country to their destination lists.
For SVG to get these cruise lines to commit, the tourism product must show uniqueness, providing tourists with an experience that they can get nowhere else.
Speaking at the VIP lounge at the Argyle International Airport (AIA) on Wednesday, during a meeting with Prime Minister Dr Ralph Gonsalves, associate-vice president Government Relations for Royal Caribbean International Frederico Gonzalez-Denton said that cruise lines want new experiences for their passengers.
Gonzalez-Denton's view was supported by director of Ports of Call and Government Relations, Carnival Cruise Line Leon Sutcliffe and executive director, Marine and Port Operations, Port Developments and Itinerary Planning for Disney Cruise Lines Russell Daya.
The three executives, along with president of the Florida-Caribbean Cruise Association (FCCA) Michele Paige, visited on Wednesday to hold talks with PM Gonsalves on matters related to the cruise industry.
Gonzalez-Denton said that he was impressed with the story of the AIA and the fact that mountains were moved and streams diverted is a testament of what Vincentians can do.
"We are coming here with the celebrity ship 'The Summit' for the first time in many years…my message is try to make the best of that opportunity to really welcome and make guests feel welcome in St Vincent and the Grenadines, because if we do that, the possibilities of us to continue bringing ships here will happen," explained Gonzalez-Denton.
He added, "It's a good test, but it is up to Vincentians to know that they have the opportunity to receive these guests, to welcome them in the Vincentian way".
Disney's Daya said their ships do not call here and the only way that they will, is if they are convinced that the destination is offering something that their other destinations cannot.
He praised the PM for holding the meeting and opening the dialogue.
"…Our ships don't call here and from everything discussed this morning I can't promise our ships will come, but I promise that this relationship will strengthen and when relationships strengthen, they form the backbone for business," said Daya.
He said that it is a destination's responsibility to tell their story and sell their product. He said that when guests come to an island, and they leave after having a wonderful experience, they usually tell their friends and family and talk about it on social media.
"…that is where everybody's responsibility comes into play, from public and private sector," said Daya, who noted that the next step is to continue to develop the relationship between Disney and SVG. He said that destinations that listen are usually very successful.
Also addressing the gathering, Sutcliffe said that Carnival has 25 cruise ships operating mainly out of North America into the Caribbean region and they handle five million passengers annually.
"Carnival is not calling in the destination at the moment, but I am part of the operations committee and we share best practices amongst the brand, so I am looking to see and read about how you are going to deliver memorable positive guest experiences for my members," said Sutcliffe.
He added, "what we are looking to create is memorable experiences, positive surprises. Every cruise passenger is looking to be immersed into a local culture. They want to experience hospitality and I can only hope that the hospitality that the cruise passengers see on a daily basis could be akin to what we see today through the leadership of the Prime Minister.
"…and then we can identify demand and look at the marquee value for SVG, then we can look at opportunities for inclusion of this great destination into our itineraries," promised Sutcliffe.