Posted on
PM Gonsalves outlines plans for road works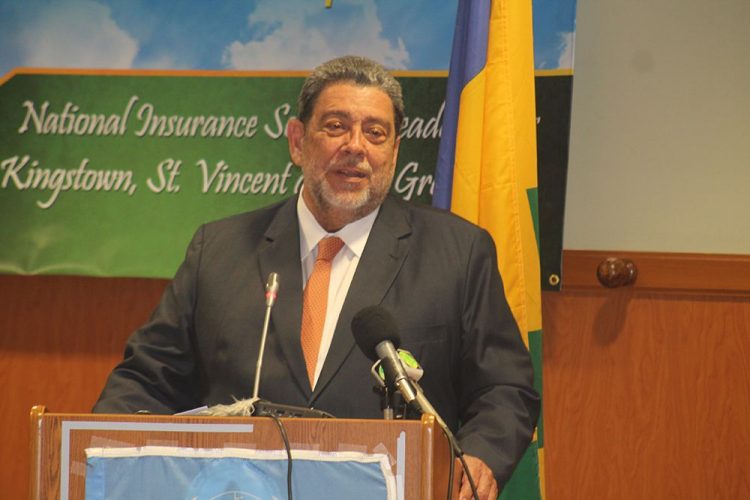 The road network in St Vincent and the Grenadines came under the spotlight, as Prime Minister Dr Ralph Gonsalves spoke on the issue at a recent news conference at Cabinet Room.
Prime Minister Gonsalves said that there are several projects in the 2017 budget for the construction and rehabilitation of roads, sea defences and bridges. He said that these existing projects will be financed by the Republic of China on Taiwan and the Caribbean Development Bank.
According to Dr Gonsalves, "There are problems with feeder and village roads and the Government has organized to borrow EC$95 million; the first portion of US$14 million will come from the Kuwaiti Fund for Arab and Economic Development and road works under this disbursement which should have commenced in April, will now begin in June/July".
The Prime Minister explained that 22. 7 kilometres of road will be constructed under the Kuwaiti Fund for Arab Economic Development, which deals with secondary village and feeder roads. These will include the Antoine Mountain Road; Palmyra; Montreal Gardens Road; Old Sandy Bay Village Road; Mount Wynne Beach Village Road; Mesopotamia roads, including Greiggs; Belair Road; Salt Pond Road; Enhams/Fair Hall Road, Sayers Village Road, Calder Main Road; Carriere Mountain Road; Lammie Mountain Road and Colonarie Estate Road.
The others will be constructed under the OPEC Fund for International Development.
In the meantime, the Ministry of Transport and Works will continue its ongoing road maintenance programme, to be further complemented by the road works being done by the Basic Needs Trust Fund (BNTF) programme and the Banana Accompanying Measures (BAM) programme through the European Union.
The Ministry's work will be buttressed by the acquisition of additional equipment from Argyle, such as the Concrete Batching, Stone Crusher and Asphalt plants.
Other projects highlighted by Prime Minister Gonsalves were the South Leeward Highway; the Natural Disaster Management post Tomas and the April flashfloods; Natural Disaster Management Funding December 2013 flash floods; Natural Disaster Management Risk Reduction and Climate Change Adaptation Project by the World Bank; the Government of Mexico Fund for the Cumberland /Spring Project and the Kuwaiti Fund for Arab Economic Development
He noted that some of these projects are at various stages, "some of them are underway, some are finished and some are in design phase".