Posted on
FLOW kicks off 2017 Carnival promotion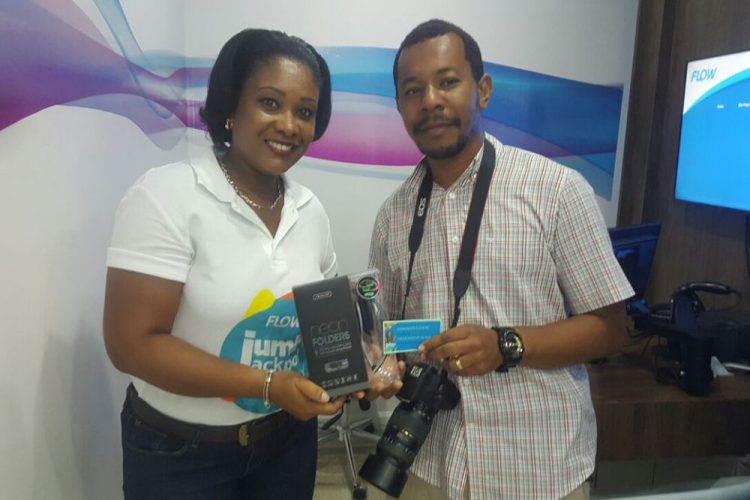 Telecommunications services provider FLOW launched their 2017 Carnival promotion this week and off the bat customers began benefitting from the great deals.
Corporate Communications officer at FLOW Nikala Williams said that the theme for the 2017 promotion is "Go limitless with FLOW for Carnival" and according to her, "We are going limitless with FLOW this Carnival".
The 2017 promotion is, as usual, centred around cellular phones, FLOW's products and services.
Products executive Maria Degrads, during the media launch on Monday at the company's Halifax Street location, said that the 2017 Carnival promotion is filled with exciting offers and they tried to keep the promotion as simple as possible, while giving customers value.
This promotion allows persons to win daily and weekly prizes, while they will also be a grand prize draw for EC$10,000. Prizes include 10,000 minutes of talk time, 10,000 megabytes of data, a trip for two to Soca on the Hill in Barbados, Carnival Monday Band packs, Ahdrenalin Mas Bands costumes, Carnival show tickets and smartphones.
"We have handsets as low as EC$99… we are encouraging persons to join the FLOW family," said Degrads.
To be eligible to win prizes, customers must do, among other things, top up EC$15 or more, text "Carnival" to "8627", or sign up for any new plan or service.
Degrads said that they are also specials on SIM cards.
"These SIM cards will allow customers, once they keep their account active over the next six months, they are going to get free data, free talk and free text. All they have to do is keep their account active by topping up," explained Degrads, who also spoke about days when triple and double data prizes will be given away.
"For new customers coming onto our network we are giving a free Samsung Galaxy, once you sign on to one of our hero plans," said Degrads.
New broadband customers will get free installation when they sign to any turbo package. Customers who sign on to a TV-based package for as low as $65, can get a movie package free for two months, while existing customers who wish to take up an offer will get it 50 per cent discounted for two months.
"All these exciting offers will also get you into out jumbo jackpot," said Degrads, who added that customers purchasing the Samsung Galaxy S8 on post-paid will get double data.
Head of Customer Service and Retail Sales Andrea Liverpool encouraged persons to get the new Samsung S8, as low as $2,799.
"It is the most wanted around the world because it is one of the best devices that has ever been released," said Liverpool, who spoke about the device's infinity screen, sleek design and advance features like iris detection that allows unlocking the phone with your eyes.
"So, you don't have to wonder about the girlfriend putting the thumbs on the thing to unlock when you are sleeping… it now has iris focus," said Liverpool playfully, adding that the phone is 50 per cent more water resistant, has a longer battery life and better memory and comes in two sizes, regular with a 5.8 screen and a plus size with a 6.2. inch screen (currently sold out).
The launch also saw the FLOW team, led by country manager Wayne Hull, give away over 100 different prizes at the retail store. Customers who did transactions at the store between 12 and 2 p.m. were given the opportunity to pick prizes from a spin-the-wheel set-up. Persons won headsets, credit, cash and show tickets, among other things.
The giveaways were streamed on Facebook by "Live with Lester".