Posted on
GHS RBTT Young Leaders enjoy fun day with special children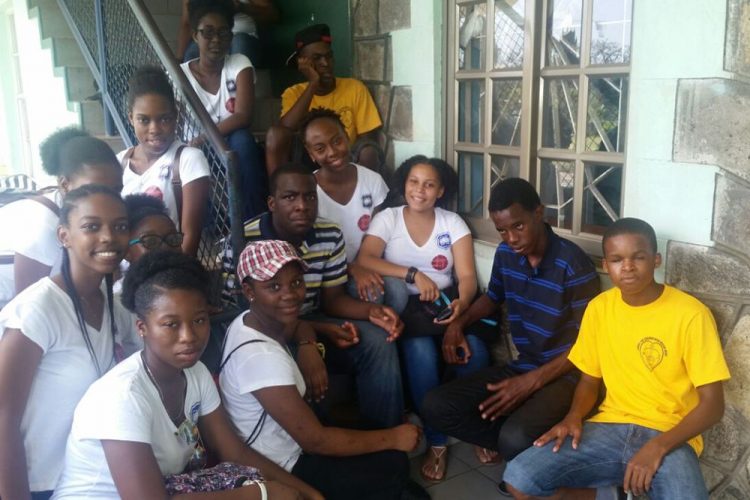 The School for Children with Special Needs quite often receives donations. These donations are always appreciated and are of tangible benefit to the students who attend the school. However, children with special needs often yearn for the simple, but often overlooked, human interaction with persons other than their immediate peers. Upon learning about this wish, the Girls' High School Young Leaders (GHSYL) eagerly organized to spend some quality time at the school. The children indicated that their dream was to be taken to the movies and the Young Leaders chose the movie "Gifted", which they believed that the movie would be appropriate and the management of Russell's Cinema graciously agreed to a special showing of this movie for the youngsters at 2 p.m. on Saturday, April 29, 2017.
A driver from Sailors Wilderness Tours was assigned to transport eight children from the school to the Botanical Gardens that Saturday, where, thanks to the assistance of visitor assistant Andrea Grant, everyone was able to enter the garden to pass the time and enjoy a meal of KFC, before going to see the movie. The KFC lunch was provided through the generosity of Jankie Glass. The GHS Young Leaders covered their own meals.
The choice of movie was indeed the right one and there was not a dry eye in the cinema at the end of it. It was evident that the special needs students thoroughly enjoyed their outing. The families of these young persons expressed thanks and appreciation to the Young Leaders for the gesture.
Earlier that same Saturday, two different groups of GHS Young Leaders embarked on two other voluntary initiatives, which brought them in direct contact with the natural environment. While some of the Young Leaders trudged down into the river between the Girls' High School and the Kingstown Preparatory School for clean-up duty, another group headed to Vinsave Pre-school to prepare an area of land there for planting herbs and vegetables.
Although the river looked polluted from a distance, the "up close and personal" first time experience in the river itself was an eye opener for the Young Leaders. They found a myriad of items, including an old stove, clothing, plastic bags, rope, multiple pieces of metal and snack wrappers.
In the meantime, further down the road, deputy headmistress of the GHS, Michelle Beache, who brought seedlings of rosemary and other herbs from home, assisted the girls in planting them. Other seedlings, such as tomatoes and cucumbers, were donated by Nester Billingy of Mudula Propogation. With the able assistance of staff gardener Caine, the girls learnt some 'tricks of the trade," as they prepared and revived an area of land behind the buildings for the planting of the seedlings. The Young Leaders felt a sense of accomplishment following these two environmental activities, as they learnt to overcome obstacles and also reinforced to themselves the importance of growing what we eat, keeping our environment pristine and preserving it for generations to come.