Posted on
WPP treats over 90 children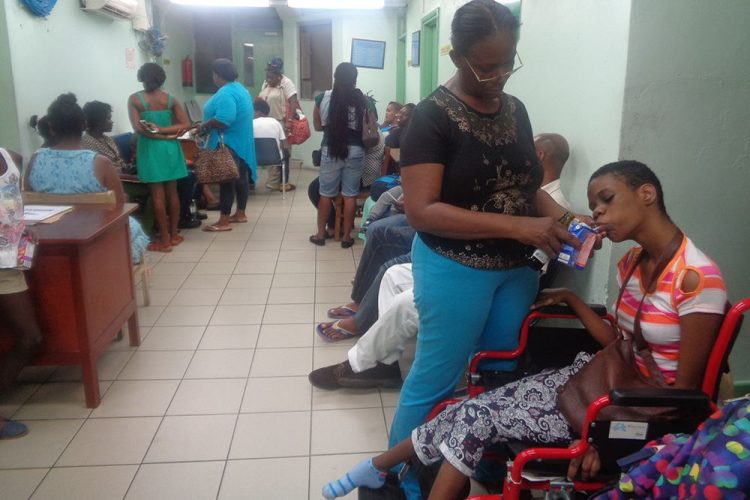 Over a five-day period, beginning on April 9, the General Orthopedic Mission of the World Pediatric Project saw 99 children, 36 of whom came from other Eastern Caribbean Countries.
The team of specialists from St Louis, Missouri, was led by pediatric orthopedic surgeon, Dr Mark Miller and included Dr Aaron Huser, orthopedic surgeon fellow; St Lucian volunteer Dr Horatus Jeffers, adult orthopedic surgeon; Dr Jacob, pediatric anesthesiologist; Jill Hahn, recovery nurse; DeWayne Johnson, surgical technologist; Donna Griffin, physical therapist; and scribe, Mallory Truthy. Brad Powell, ortho-pediatrics instrument distributor, was also a member of the team.
Local orthopedist Dr Charles Woods also worked with the team from the WPP.
During the visit, the team performed surgeries from the simple to the intricate, on 17 of these children.
The cases seen in this mission included bow legs, cerebral palsy, Spina bifida, club foot, Sickle Cell/Hip Avascular Necrosis and extremity fractures, among others.
With such a wide variety of conditions, the dedicated team set about to structure its operation to ensure that all patients received their surgical procedures. With the 17 surgeries completed, five referrals were identified for more complex operations in St Louis.
Seven-year-old Jadiel Primus of Richland Park was one of the children treated. His grandmother, Leonora Primus, explained, "Jadiel was born with one foot shorter than the other one and he has a problem with his hip because he is missing part of the leg."
Jadiel had been visiting the missions for over two years and was found to have a congenital deformity of his hip and right leg. During the week of surgeries, he received his first intervention, the second of which would take place in St Louis. His grandmother was elated and expressed her gratitude: "We didn't have the money to do it and I'm very grateful to these people who come here to help us out. I'm very, very grateful!"
Similarly, 12-year-old Ariel Christmas from Dominica, who was diagnosed with Blount's disease, which appeared around the age of 10, was able to give a scream of overwhelming joy when she was informed that she will no longer need her crutches because the intervention to take place during surgery week will allow for ability to walk freely. Equally happy, her mother, Theona Vechausay, volunteered, "This is great! You see, some of us don't have the money to pay for this type of surgery and because we are given that special opportunity, it's just great!"
It is poignant to note that both mothers from different countries across the region were able to access the services of the WPP. According to Eastern Caribbean Rep of the WPP, Jacqueline Browne-King, "There is a connection between the district clinics and the hospital. Once the district finds children with issues that they think need to be forwarded, it is sent through the Out-Patient Department, and these are then forwarded to us."
This, therefore, provides easy access to the programme and persons here are constantly encouraged to have their children with issues visit the district clinic in their area to receive referrals to the World Pediatric Project.