Posted on
Third time's the charm for Guinness 2017 pool king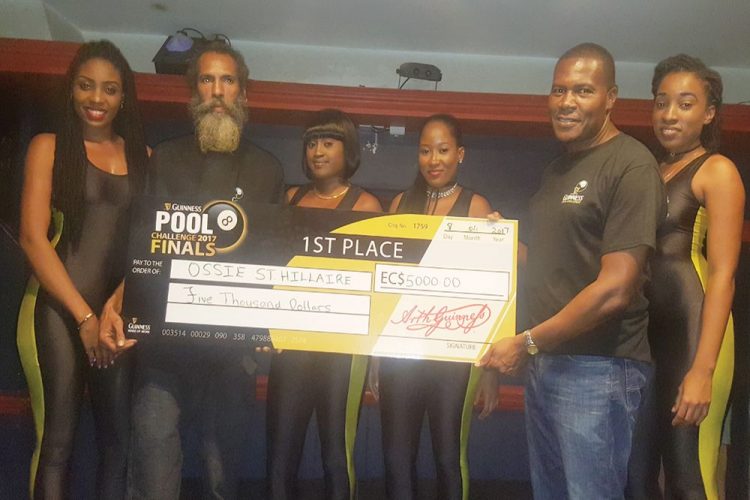 After three years of trying to be the local pool king, McKies Hill resident Ozzie St Hillaire has finally pulled it off.
St Hillaire reigned supreme during the grand finale of the 2017 Guinness Black Ball Pool Competition, which began at Marty's Sport Bar last week Friday, April 7 and ended hours later on Saturday, April 8.
St Hillaire dispatched his competitors and ended up playing the final game against 2015 finalist Camillus Pitt in the best of five finals. Pitt placed second in 2015 to Alston Barker and managed second again this year.
Commenting after being rewarded with the EC$5,000 prize money by the Brewery's marketing coordinator Kelvin Franklyn, St Hillaire thanked the St Vincent Brewery Limited for hosting the tournament for a third consecutive year.
"Honestly, big up the people who organizing this competition, because they giving back to the country and people supposed to respect that because they don't have to do it and I like them for that," St Hillaire commented.
St Hillaire, who was knocked out in the finals in 2015 and 2016, added: "All the players are good. I'm not putting down no player, everybody have them own style and their own technique. I give everyone a round of applause".
He revealed that he has been playing pool since he was 13 and that he learnt the game from his father, Bennett St Hillaire.
"I plan to go on as long as I can. When I left Kingstown on Friday night, I told everybody that I was going to win.
"I notice that while all the players are very good, a lot of them have problems putting the white ball where they want it to go when trying to set up their shots," said St Hillaire, who practises daily at Real Life Bar in Middle Street, Kingstown.
St Hillaire represented Nani Bellingy's Bar on grand finale night, while Pitt represented South Beach Bar, Barrouallie.
The other players were Terry Phillips (West Side Bar), Recardo Greaves (Auntie Merlene's Bar), Alston Barker (Police Canteen Kingstown), Lloyd Thomas (Skyline Bar Bequia), Jahnyiah Gumbs (Over the River Grocery) and Tex Franklyn (Azard St Hill's bar).
Last year's winner Rocky Punnett did not take part this year.
Tournament Supervisor and trade marketer at the Brewery Cleve "Skip" McKenzie said that the Brewery is proud of what they achieved with the tournament once again.
"The competition attracted more young players than the last two years. This year, the younger players provided more competition for the older guys and a very high standard of playing and now most players want the Brewery to extend the competition overseas," said McKenzie.
"They want us to go up a notch by us taking the tournament regional. That is what everyone wants," noted McKenzie, who added that this year about 350 persons took part, a high turnout which impressed the organizers.
McKenzie said that the tournament is growing so rapidly that now, almost every shop he visits wants a pool board.