Posted on
GHS Young Leaders' Voices For Change speaking loudly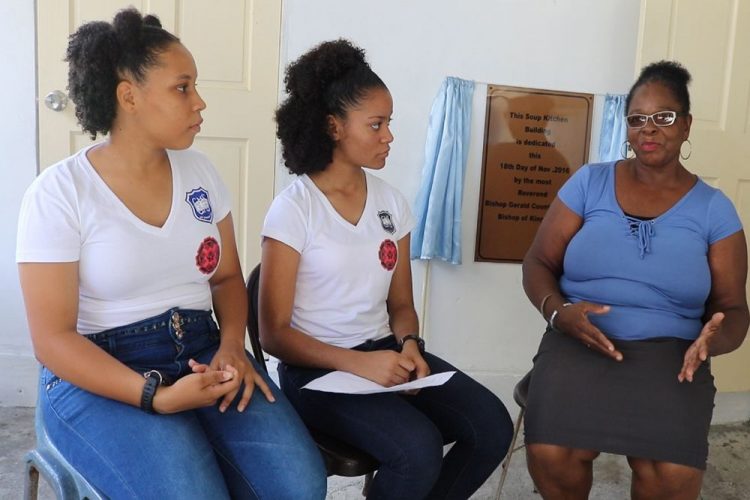 Under this year's RBTT Young Leaders' theme, "I Am We…Volunteering for Impact," one of the projects of the GHS Young Leaders is a mini-series or talk show called "Voices of Change". The talk show will focus on the many Vincentians who are making a difference in our country daily, through their good works and acts of kindness. The mini-series began with an interview with Bridgette Bowens, which took place at the launch of the GHS RBTT Young Leaders on Tuesday, March 28, at the Catholic Church's Fishes and Loaves Soup Kitchen at Rose Place (Bottom Town).
Bowens, in her interview, indicated that she has been an employee at the Soup Kitchen for the last 23 years as a cook. Initially, she only worked for three days of the week, but her work days later increased to five. Mrs Bowens indicated that working at Fishes and Loaves has not been easy.
"You know at one point I was going to leave. I went to Father Andrew, who was in charge of the Soup Kitchen at the time, and I said, Father, I am leaving. He look­ed at me and said no, you are not. You are not leaving because God has made this your mission in life. So, I stayed and have been here ever since," she stated.
Bowens noted that she sometimes gets angry with the individuals who frequent the Soup Kitchen, as "…they are not easy to go with," but she clearly cares for them. She is a very spiritual person and explained that she does this work for her love of God and never turns anyone away who is in need of a meal.
During the sit-down with Bowens, she also spoke to the Young Leaders about the importance of the Soup Kitchen, and the importance of volunteerism on a whole. She expressed her gratitude to the girls for what they were accomplishing through the "Finding 52" project.
The GHS Young Leaders group has several other persons lined up for interviews for the show. Two episodes of Voices for Change will be aired every week on the group's Facebook page.