Posted on
WPP conducts cardiology clinic at MCMH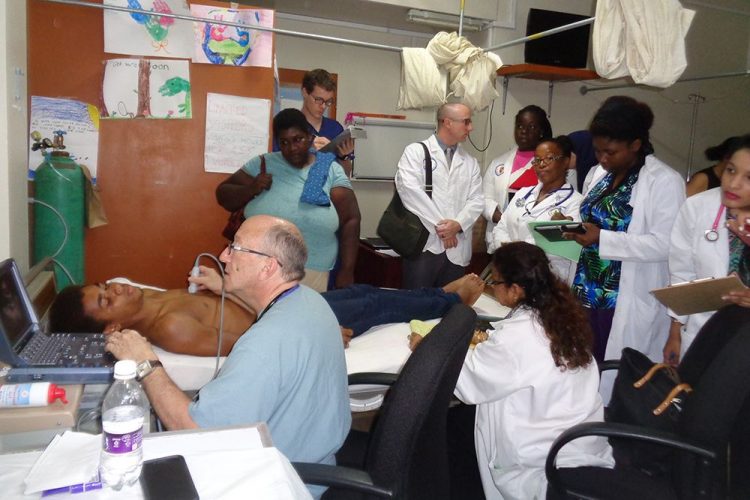 One hundred and seventy-eight children from three Eastern Caribbean countries were seen last week when the World Pediatric Project (WPP) held its annual Cardiology Mission.
Held from March 17 to 20, the Mission was headed by pediatric cardiologist Dr William Moskowitz, assisted by medical scribe, Joseph Bannister.
The clinics looked at patients with rheumatic fever and congenital heart disease. Dr Moskowitz, of the Virginia Commonwealth University Hospital and a professor of Pediatric Cardiology, was in his 15th year as a specialist volunteer of the WPP.
He outlined his impression of operations of the clinics at our local hospital. "Sr Jackie, Dr Datta, always have everything under control, so that when we start the clinics on mornings, everyone is lined up and the patients are ready to be seen with all their documentation.
"Children are here with congenital defects, as well as rheumatic heart disease. Some are new patients, some are patients who we've been following here for years," he said.
The pediatric cardiologist employed the use of the brand new echocardiogram, an important tool which diagnoses and monitors heart disease.
He explained the connection between rheumatic fever and heart disease: "Rheumatic heart disease or rheumatic fever is acquired sometime between the ages of five and 15 years, most commonly due to the fact that somebody had a strep throat which was not treated. A simple shot of 'penadur' could have helped."
He went on to caution that, on the other hand, if that opportunity is missed, two to three weeks later the body starts to fight the strep. Because it is similar to heart tissue, when the body begins to attack its own tissues, then heart valve damage occurs. He noted that by treating the strep early, prevention of rheumatic fever becomes automatic and stressed the importance of educating parents, teachers and other individuals who interact with children.
During the visit, Dr Moskowitz also trained technicians and other professionals in the operation of the echocardiogram. Among these were medical doctors, radiologists, EKG technicians, and medical students. He also conducted a Continuing Medical Education exercise with medical students, lecturing on the topic of "Physical Examination of the Child with Congenital Heart Disease with Valve vil Disease."
By the end of the mission, of the 178 children examined, 14 had come from Antigua and Barbuda and seven from St Kitts/Nevis. Of this figure, 20 patients will proceed to Richmond, Virginia for surgery. The World Pediatric Project had made another step towards its aim of "Heal a Child. Change the World!"