Posted on
SVG Medical Association, Trinity partner to replace MCMH sign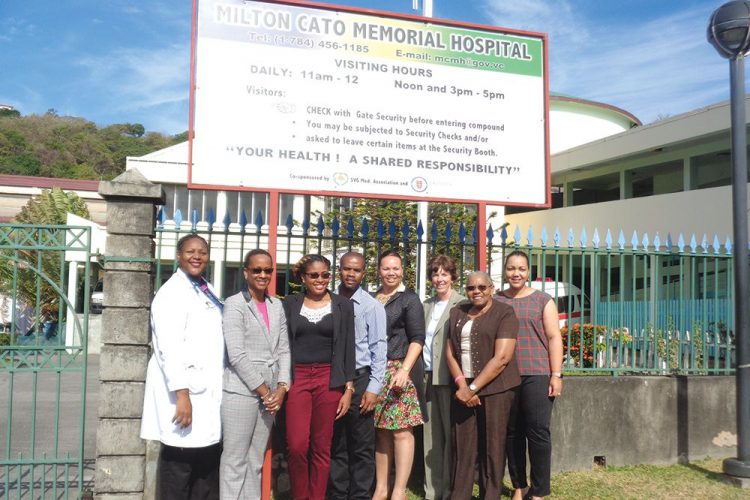 Trinity School of Medicine has once again partnered with the St Vincent and the Grenadines Medical Association on a project within the area of health care. This time, the collaboration has seen the redesigning, mounting and presentation of the official sign for the Milton Cato Memorial Hospital (MCMH), the main hospital in the country.
On Friday, February 24, dean of Trinity Dr Linda Adkinson joined the president of the SVG Medical Association, Dr Rosalind Ambrose and her organization's secretary, Shannon Samuel, to conduct an official handover of the sign installed at the entrance to the MCMH. Hospital administrator Grace Walters and chief medical officer Dr Simone Keizer-Beache symbolically received the donation.
Dr Ambrose gave a brief outline of the rationale for the project. She explained that while the sign was significant to the institution, there were many other projects that proved to be of greater priority. As the sign deteriorated, it attracted the attention of the Medical Association.
"We were quite happy to initiate the project," she said. "We spoke to Trinity and they agreed to partner with us in the venture. We redesigned it, got it done and Trinity provided the finances."
Dean Adkinson expressed her pleasure with the fact that Trinity was asked to collaborate on the project. "When you support the right cause," she said, "the cost isn't as significant as it would be if, in your mind, it wasn't the right thing to do. So, when there is the right reason, you find the money to do the right thing." She added that Trinity's involvement comes out of pure gratitude and commitment for the benefit it receives from its relationship with the community. She was happy to point out that "There are physicians in the community that contribute to our students' training and it's very significant that we are able to share in the other part of what they do with their lives – patients at the hospital, patients in the communities."
The hospital administrator expressed her gratitude for the gesture, adding that "something as significant as a sign could get pushed off the urgent agenda of the hospital, and it would take time to get back there."
With that said, the sign mounted to the right of the main entrance of the hospital, was unveiled, symbolizing the change of hands from donors to recipients. Now, with the redesigned sign prominently affixed, patients and visitors alike could access information relevant to the institution.