Posted on
Cambridge takes Althea Commissiong Brownie Public Speaking title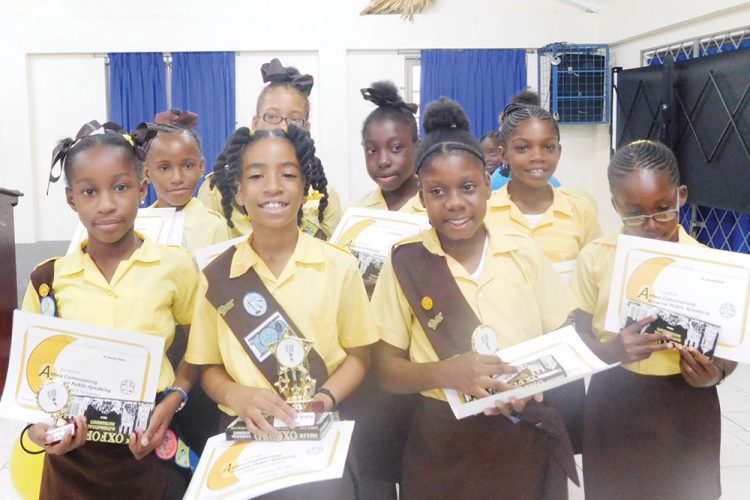 Ten-year-old Faith Cambridge of the #2 Kingstown Brownie Pack is this year's winner of the annual Althea Commissiong Brownie Public Speaking Competition.
Speaking on the topic: "From a small seed a mighty tree may grow. How does this relate to you as a Brownie-Guide," Cambridge, a student of the St Mary's Roman Catholic School bested seven other competitors, on Wednesday at the Girl Guide Headquarters, to walk away with the top prize.
Second place went to Ajani Dyer of the #2 Kingstown Brownie Pack and third place went to Jonique Haynes of the 1st Barrouallie Brownie Pack.
Cambridge told SEARCHLIGHT that she is relieved that the competition is over.
"I no longer have to stay up late nights and practise or have my mom breathing down my shoulder or my aunts, who recently went back. I have good news to tell them," the excited lass said.
She added, however, that while she knew she would do well, she wasn't sure that she would win.
"…I thank the Lord that I won. The competition is not just about winning, it's about participation and having fun," Cambridge said.
She said that during preparation, she read her speech to different persons to get different views and ideas.
Ajani Dyer of the #2 Kingstown Brownie Pack was judged to have the best impromptu speech, while Jonique Haynes was judged to have to best prepared speech.
Other participants in the public speaking competition were: Nissi Joseph of the 1st Clare Valley Brownie Pack; Reana Jackson of the Lodge Village Brownie Pack, Elvonique Horne of the 1st Langley Park Brownie Pack; Leronique Scott of the 1st Questelles Brownie Pack; and Tia Sam of the Tourama Brownie Pack.(CM)