Posted on
Hundreds pay final respect to teen killed in car crash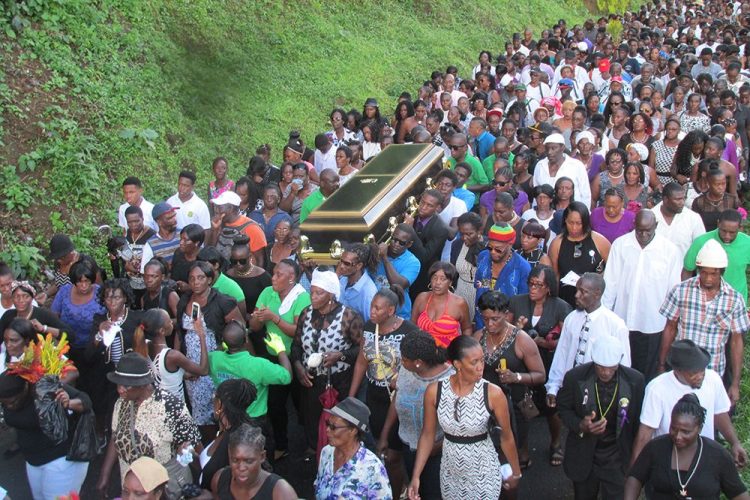 Chateaubelair became a sea of bodies as hundreds showed up to offer support to the family and friends of college student Onixcy Hamilton, who lost his life in a tragic motor vehicle accident at Chateaubelair on December 31.
The funeral service took place at a packed to capacity New Testament Church of God (NTCOG) at Sharpes Village, with persons standing in the aisle and corridor and spilling onto the streets outside all the way to Mission Corner and Fitz-Hughes.
The service was conducted by Bishop Dan Richards, who was Onixcy's pastor when he pastored the Troumaca NTCOG which Onixcy attended.
Noel 'Meatman" Harry, a professional steel pan player and instructor who lives in Barbados and Daisley Michael, his younger brother (on keyboards) played a medley of gospel songs in tribute to their nephew.
The eulogy was read by Roxanne Williams, while tributes were also done by Chevonne Hooper, Dilson Isaacs, who was Onixcy's best friend and broke down several times and Canique Dennie, all students of the St Vincent and the Grenadines Community College (SVGCC), where a memorial service was held last Friday.
In an emotional tribute, Onixcy's aunt, Michelle Michael/Dennie implored the young persons present to look out for each other and live right.
Onixcy began his formal education as a student of the Chateaubelair Methodist School (CMS), following which he attended the prestigious St Vincent Grammar School. At the time of his death he was a second year student of the SVGCC.
Onixcy spent his earlier years in Chateaubelair, then moved to Troumaca where he finished primary school. He was described as a quiet and mannerly individual, who was respected by both his peers and adults in Chateaubelair and Troumaca. He also participated in athletics at school and at church.
Attending Sunday's funeral were uniformed contingents from the Grammar School, as well as the SVGCC. Also in attendance was Nigel Scott, director of the SVGCC.
The procession to the Fitz-Hughes cemetery was accompanied by the Rose Bank Classic Drummers playing upbeat spirituals, while persons danced. After the casket was taken out of the hearse, the young men jostled for turns to carry the casket on their shoulders, military fashion. The procession paused for a while at the spot where Onixcy met his demise.
The graveside ceremony was mostly attended by young persons, who placed wreaths and flowers and lit candles to place on the grave, many doing so while openly crying. Onixcy would have turned 18 in February; he had hoped to intern at the National Emergency Management Organization (NEMO) to gain experience before going off to university to study to become a biologist. Onixcy is survived by his parents Samuel and Diana and his brothers Miles and Samuel.(AC)