Posted on
GHS opens seat of business excellence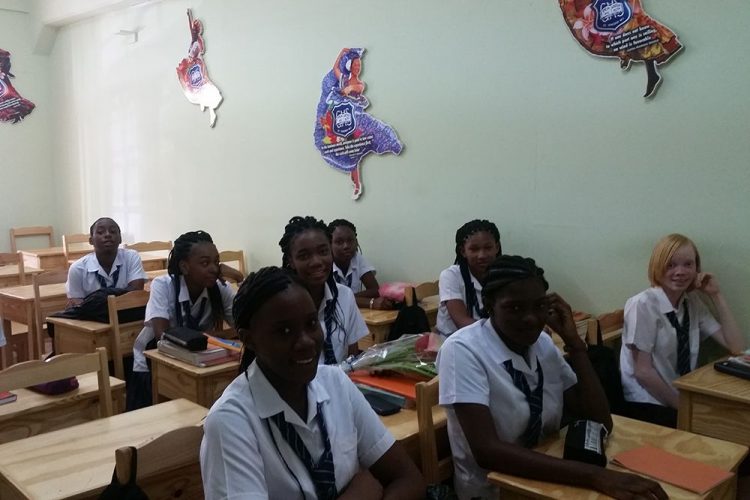 Students of business at the St Vincent Girls' High School (GHS) now have a place to exchange ideas and nurture their entrepreneurial drive.{{more}}
Yesterday during the school's first general assembly of 2017, the Seat of Business Excellence (SBE), which cost approximately $16,000 to be established, was officially opened.
LaToya DeRoche-John, one of the school's business teachers explained that when she presented the idea of the SBE, she wanted a space on the school compound which is not a classroom, for the business students to gather and exchange ideas.
"…Since they are in the field of business, they have to meet and exchange ideas. We want to foster entrepreneurship, these ideas we have to bounce off one another," DeRoche-John said.
She said that she has already seen the students benefiting from the centre.
"You can see them feeling out different ideas, things to try. 'What you think about this or what you think about that?' That's the type of environment that we want to create at the GHS," DeRoche-John stated.
The business teacher also stated that since the centre was created, the students have been producing a different level of work.
"I think it gives them a boost of confidence, a sense of purpose. They see the science girls going to their lab, and they are going to their space as well, so it gives them a little boost and you could see it in the way they walk and the way they carry themselves, it's a little different now for them," she added.
DeRoche John stated that as a teacher, working in the centre makes her feel more prepared and ready for the day.
"As a teacher you are able to prepare and get yourself ready for the incoming students much more, it is just totally different."
Additionally she noted that being allergic to chalk, having a room with a white board allows her to teach without fear.
"I could write what I need to write, I could erase; the students could write. The board is nice and big, so when you are doing things like double entry, you don't have to write up half and erase half…its conducive to learning," she added.
Headmistress of GHS Andrea Bowman noted that there is a perception in the school that the students studying the sciences are more important than the business students and this centre puts all the girls on equal footing.
"I would love for all students to recognize that regardless of their particular option there is an equivalency, they are equally important…"
Bowman added that the centre was created for the business students to be more comfortable especially with the increasing number of students who are opting for the business subjects.
"Very often we have to monopolize… the Grimble Hall where…there are other people who want to use it, but the business classes tend to be so big and … they are becoming bigger over the time," she explained.
Some of the contributors to the SBE were recognized at yesterday's general assembly and presented with bouquets of flowers.(CM)