Posted on
Caribbean civil society preparing for future of ACP-EU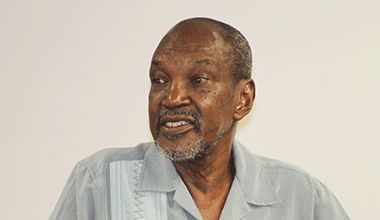 Renwick Rose, the former Cchair of the Caribbean Policy Development Centre (CPDC), the regional umbrella network of civil society organizations, represented Caribbean civil society at a seminar held in Brussels, December 6 and 7, to begin discussions on "Future perspectives for relations between the ACP (African, Caribbean and Pacific) countries and the European Union (EU) after 2020.{{more}}
The year 2020 is significant because in that year, the current relationship agreement signed between the ACP and the EU at Cotonou in 2000, expires.No negotiations for a follow-up agreement have yet been held, but must be concluded by the end of August 2018. Failure to reach agreement will have effect both on development assistance under the Cotonou agreement, as well as jeopardize the legal basis of the Economic Partnership Agreement (EPA) signed between the Caribbean states and the EU in 2008, governing trade relations between these regions.
Rose was invited, along with counterparts from Africa and the Pacific, by the European-wide civil society network, CONCORD, to begin to explore ideas as to what form any new ACP-EU agreement should take, bearing in mind the strengths and weaknesses of previous agreements, and to prepare a civil society input into the official discussions to ensure that any such agreement contributes to the advancement of the well-being of the people of the ACP states, especially the poor.
While in Brussels, Rose also met with the two top officials of the ACP Secretariat in Brussels, Secretary General P I Gomes, and Assistant Secretary General, Emile Ogninmba. Those discussions centred on the need for full participation of ACP civil society in ACP development and in matters pertaining to ACP-EU relations. Specifically they discussed preparations for a planned meeting of ACP, civil society, private sector, and labour representatives to be held in the first half of next year.