Posted on
Mashti Foods brings new flavours to Vincy palates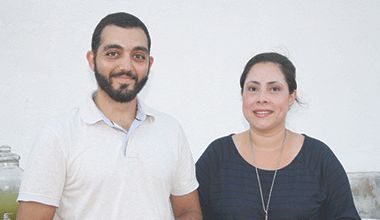 With the launch of Mashti Foods a few weeks ago, Said told SEARCHLIGHT that they are trying to improve and enhance some of the local dishes, by adding to and exploring the Vincen­tian flavours, while introducing persons to new flavours.{{more}}
Said and Rodriguez decided to move to St Vincent and the Grenadines (SVG) to set up shop, as during a visit here a few months ago, they fell in love with the country. The duo stressed that they also noticed a need for training in the culinary arts and thought that they could contribute to the gastronomy here.
Gastronomy is the study of the relationship between food and culture, the art of preparing and serving rich or delicate and appetizing food, a style of cooking of a particular region, and the science of good eating.
"We like to complement both local and international cuisine and give a gourmet spin to it and make it more interesting. We like to create different ambiance that brings together family, loved ones, friends," noted Said, who disclosed that their range of menu items includes a number of signature sauces, juice, bread and other delicacies.
According to Rodriguez, the main idea behind the service is to offer persons a different type of cooking at any venue.
"…whatever you want and whenever you want to have a party, we can bring the food. We cover the food and the taste is great; we have appetizers, juices, signature homemade sauces, ingredients like smoked eggplant, yellow onion, tomatoes and chick peas," said Rodriguez, adding, "we are trying to provide a gourmet service and give a new experience and change what people are used to."
Rodriguez said that the food they produce is of good quality and promises to uplift any event, whether it is a party with friends, wedding, baby shower or a business conference.
Juices include a sorrel and cinnamon mix, while there is also a lemonade with basil and cucumber blend. There are several types of bread, French baguette, Spanish cross bread and whole wheat sandwich loaf with oatmeal. The bread is made with only yeast, white or whole wheat flour and salt and is worked with for around four to five hours to make it mesh.
Several sauces are also available; smoked flavour pepper, yellow onion, chick peas Lebanese style and smoked eggplant are just a few of the offerings.
Rodriguez, who is an international chef, noted also that they are working with local farmers.
"We like to support the local providers, because this is important for us and important for the island too, as it relates to tourism and development", noted Rodriguez, adding that the foods they create are extremely healthy.
The duo is also hoping to train persons.
"We saw a lot of potential here and we have the need to help people, so we want to train people and help improve skills and abilities in gastronomy.
"People are enthusiastic and have the desire to cook, but give up sometimes because it is hard, because of lack of training, so we are thinking that we can train them and give certification and this can help them get better jobs," Said explained.
Persons can contact Mashti Foods at telephone number 1-(784)-497-2892. (LC)