Posted on
Unpaid salaries spark mass strike at Buccament Bay Resort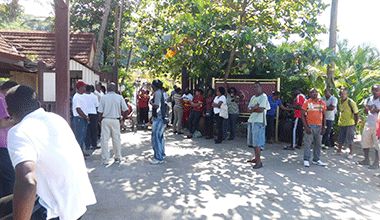 When SEARCHLIGHT visited the resort on Friday, about 30 workers stood at its entrance chanting "no pay, no work."{{more}}
The protesters explained that on pay day, they would at times receive portions of their salaries and other times, no salary at all and they are "fed up!".
"We are here because we want every cent of our money! We ain't want no piece, piece; we accustom get piece, piece, we ain't want it; so we want all that they have for we," said one worker.
Protesters claim that some workers have been paid as little as EC$100 and stressed that it is unfair to them.
They further claim that they were informed that their salary woes are because of the legal matters in which the owner of the resort has been involved.
David Ames, a naturalized Vincentian who left the country shortly after he was charged with eight counts of theft and tax evasion earlier this year, is the proprietor of the resort.
Ames, who is also the proprietor of Harlequin Property (SVG) and Harlequin Hotels and Resorts Ltd, has made a US$70 million claim for professional negligence against his former accountants and auditors Wilkins Kennedy.
That matter is still before the court.
"Ames say he had to wait on some case that he had pending in the UK for some kinda 70 million, so when… they win the case everybody would be paid," said one worker.
Another worker said she and her colleagues decided to show up to work because they love their jobs, but cannot live without being paid.
"We decided that we're still going to show up to work because we love what we are doing, but we cannot be doing this on a daily basis and there is no payment," she said.
"There's transportation, there's food, there's bills, there's people who have mortgages and nothing is happening; management or those higher are not telling us anything, so therefore we are like fools just coming to work without any kind of explanation or any reason."
The worker said that all the employees decided as a body that they would go on strike until a proper explanation is given.
When SEARCHLIGHT revisited the resort yesterday, we learned that some employees had received partial payment on Friday, but not all.
"We're still taking that step further to make sure that everybody is hearing our voice and know that we're here and that we're still fighting and hope that we can get those people that are higher than us that could come to help us shed some light on what we are doing, advise us," one employee said yesterday.
Another employee, who had been working with the resort since 2010, told SEARCHLIGHT yesterday that the payment issue began in 2013 when workers began receiving their payment late.
The workers said that their payments have gone from being a couple days late to workers being paid half of their salaries at a time.
According to another worker, Minister of Economic Planning and Sustainable Development Camillo Gonsalves met with the resort's general manager and other persons at the Labour Department yesterday.
According to that worker, Gonsalves informed the upset protesters that he has given the owners of the resort until today, Tuesday, to say what exactly they're doing and when they intend to pay the workers. (AS)