Posted on
Headstart pre-schoolers are now 'fire smart'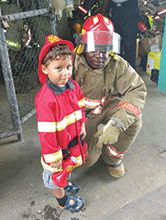 Final year students at Headstart Pre-School are better prepared to help themselves should they come into contact with fire. The four-year-old students were engaged in a practical two-week long fire safety programme that saw the children being exposed to different elements of fire safety and awareness.{{more}}
The primary concepts covered were: items that can burn at home; what to do in case of a fire at home or school; the importance of exit points; the role of a fire detector and the use of a fire extinguisher; dialling 9-1-1; the purpose of a fire truck and the suit that fire fighters wear; and the Stop, Drop and Roll technique.
The programme culminated with a visit to the Arnos Fire Station located at the ET Airport which was essential for its success. The officers were instrumental in reinforcing the concepts that the pre-schoolers were introduced to. The firefighters posed fire related questions to the students to test their knowledge and they were impressed by the responses given by the little ones.
The beaming principal, Lavinia Francis, stressed the importance of adequately preparing the youngsters for any eventuality that may occur at school or at home and added that one is never too young to learn.