Posted on
Electricity restored to customers impacted by trough system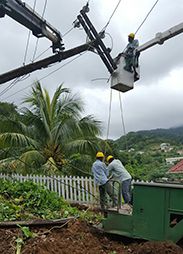 VINLEC received reports of outages in a number of areas across the country and also received reports of downed lines and poles.{{more}}
The majority of customers were restored by late Wednesday; however, a few areas remained without power overnight.
On Thursday morning, VINLEC's teams returned to the field to recommence work and were able to restore the areas of Breezy Hill, Rockies, Bon Homme and Dorsetshire Hill. The company's biggest challenge was in an area of Belair, where there was a large landslide.
Shortly after two on Thursday, restoration work in all areas was completed.
VINLEC wishes to express gratitude to customers for their support and patience. The company is also grateful to the public for their calls to the emergency section which aided in the speedy restoration process. VINLEC is also grateful to the members of staff for their dedication and service during Wednesday and Thursday.