Posted on
Antigua Finance Minister dismisses SVG's LIAT outcry as meaningless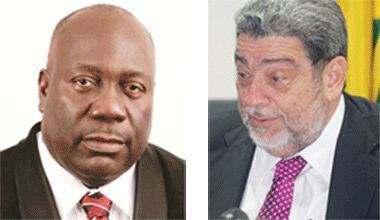 An official of the Government of Antigua and Barbuda considers the recent outcry by the Government of St Vincent and the Grenadines (SVG) about the service offered by regional airline Liat to SVG to be "much ado about nothing."{{more}}
The Antigua Daily Observer reports that Lennox Weston, the Minister of State in the Antigua and Barbuda Ministry of Finance, has dismissed this government's complaints as meaningless.
"Every time LIAT has a late flight you hear this big uproar, as if airlines don't have late flights. LIAT has problems, yes, but when you're going to use a cancelled flight…to go Antigua bashing….I find that to be the type of thing I don't respond to because it's meaningless," Weston was quoted saying.
Last Thursday, Prime Minister of SVG Dr Ralph Gonsalves, in a statement issued after discussions with the management of Liat headed by the acting CEO, Julie Reifer-Jones, reiterated there would be no new injection of funds from SVG until the service from Liat is significantly improved.
In February this year, Gonsalves, in a letter to then CEO of Liat David Evans, rejected a request for a further advance of XCD$810,000 from SVG. In his letter, the Vincentian Prime Minister explained that, among other things, SVG was not well served by the current schedule of the airline.
The Liat management had been summoned to SVG last week, after a series of delays and cancellation of flights to and from this country.
But according to Weston, Antigua and Barbuda will continue to support the airline financially.
"Even if other countries pull out, we're going to find the money to put into Liat. We have signalled our intention to have majority shares…" he added.
Following last week's announcement by Gonsalves, Prime Minister of Dominica Roosevelt Skerrit also urged LIAT to improve its service, stating "there must be a greater sense of humanism" in the way the airline conducts its operations.
Skerrit, in a report in the Jamaica Observer. noted that the rest of the Caribbean should have greatest admiration and gratitude for the Prime Minister of SVG for his efforts.
The Dominican Prime Minister, like Gonsalves, said while passengers would accept that there would be delays and even cancellations, greater regard and respect must be shown to the consumer.
Prime Minister of St Lucia, Allan Chastanet, during a media conference this week, indicated that he would like to make Caribbean Airlines his country's national carrier.
"Moving our aviation to Trinidad will, I believe, encourage other people to be able to open up an airline in Saint Lucia or in some of the other Islands," Chastanet was quoted saying in the St Lucia Times.
It had been reported that because of requests made by SVG at last week's meeting with Liat, five flights from Grenada were to be cut, beginning today. However, on Wednesday, Grenadian Prime Minister Keith Mitchell said following talks between St George's and the airline management, the cut has been reduced to just one flight. Mitchell also said Grenada is prepared to provide the cash-strapped airline with a financial subsidy for it to service the island. It has also been reported that Grenada is considering joint approaches with St Lucia to deal with the reduced service from the beleaguered regional airline.
The major shareholders in Liat are the Governments of Antigua and Barbuda, Barbados, and St Vincent and the Grenadines.(CM)