Posted on
Unlucky shopkeeper finds her luck in Hairoun Beer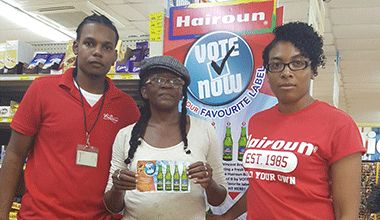 On Tuesday, August 16, the St Vincent Brewery Limited launched its 'New Label Campaign,' which asked customers to vote for one of four labels.{{more}}
Consumers voted for their favourite label by doing one of three simple things: selecting a voting card at the Hairoun Beer gondolas at local supermarkets and writing their name and phone number on that card and dropping the ballot into the specially marked Hairoun boxes. Persons also voted by liking their favourite label on Instagram at Hairounbeer SVG, or on Facebook at Hairoun Beer, or they voted at special Hairoun Beer trade events which were held throughout the island during the life of the campaign.
The campaign ended on September 2 and when tallied, label number three received the most votes. As a result, the Brewery placed all the number three voting cards that were collected at local supermarkets into a draw.
The draw was done on Monday, September 19, at Massy Supermarket, Upper Bay Street and saw shopkeeper Cassandra Simmons-Williams' name pulled from the box by Massy's Marketing and Corporate Communications assistant Petra Plato. As a result, Simmons-Williams won herself 10 cases of Hairoun Beer.
Simmons-Williams commented that she was excited to have won the drinks. She said that she voted once and while she expected to win, she was still surprised when she got the call saying that she had won.
She revealed also that she has been running a shop on Upper Bay Street since 1985 and has always sold Hairoun products.
Simmons-Williams stressed that she was grateful to have won the drinks, as her shop was broken into on Sunday and a number of items removed.
"Out of evil comes good," commented the shopkeeper.
The draw was witnessed by the Brewery's merchandiser Romario Delicia.