Posted on
'Friends of Jazz' gives to worthy cause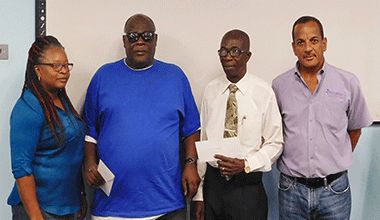 At a presentation ceremony held last Friday, Dionne Harry-George, the finance and administrative manager of Friends of Jazz, said that the donations of $5,000 each to the two organizations were raised by this year's seventh annual 'Carnival Escape,' which was held on June 26 at Balcombe's Estate at Indian Bay.{{more}}
She noted that over the years they have donated $68,054 to various organizations, which include the Milton Cato Memorial Hospital and the Mental Health Centre.
Keith Boyea, a member of the Friends of Jazz, said that all of his organization's events are geared towards charity.
"All we do is strictly for charity. We are not afraid to show you our financial statements," he said.
Receiving the donation on behalf of the Association of and for the Blind was Stanley John, who expressed his gratitude.
"I'd like to thank Mr Boyea and his organization for this generous donation. It has come at a very opportune time," he said.
"We have a programme where we give persons that are blind food baskets every month. This would go a long way in helping us to do that."
Adolphus Isaacs, who received the donation on behalf of the Lewis Punnett Trust, also expressed his gratitude to the Friends of Jazz.
"Those that are more able are to bear the infirmities of the weak and I'm really, really happy to be here this morning… This donation will go a long way in the difficulties of our less fortunate brothers and sisters." (CA)