Posted on
Youlou Arts calling for National Art Centre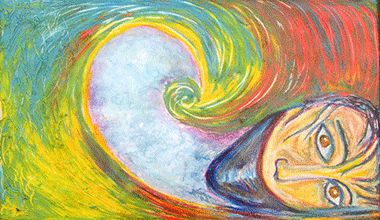 by Camille Saunders Musser
In early March, the public had the opportunity to see two art shows all within the space of a week. One was organized by Youlou Arts Foundation. It was billed as an art show and sale, and was held at the Curator's House at Botanical Gardens. In a previous article I wrote about this show.{{more}}
The other was held at the old cigarette factory, near the airport at Arnos Vale. This show was titled "Inside Out". It was organized by Caroline 'Boops' Sardine and Jeremy Payne.
To me, the presentation was well done. The artists were using the space of a working factory; it meant there was a great deal of planning involved. They must have had only a few hours to arrange and show their work.
The space was well suited to the work they were presenting. It gave the work a sense of vitality and urgency. There was the distinct feeling that the work on display had to be expressed, the work needed to see the light of day and exclaim to the world "Here I am".
There was lots to see. While visiting the show, I got the distinct feeling of looking at treasures among everyday factory objects. Treasures I wanted to spend more time discovering and observing.
On display were what I call "little alters", which made many interesting objects. I could have spent hours looking at these objects, but time did not permit it. Alas, the show was only going to be up for several hours. It would have been nice to hear from the artists what they had to say about their work — what was the thinking when they were creating the work.
All the more reason for St. Vincent to have an Art Centre with gallery space. It is vital for the arts community!
Caroline 'Boops' Sardine studied at the prestigious Royal College of Art. Jeremy Payne, I am proud to say, attended Youlou Arts Foundation as a youth. These two artists are producing powerful and interesting work. They need to be encouraged and nurtured.
Youlou Arts Foundation is fundraising to establish an Art Centre. I am appealing to the public to help make this dream come true. Please support Youlou Arts Foundation in its fund- raising efforts.