Posted on
Police wanted case of human trafficking to create history – lawyer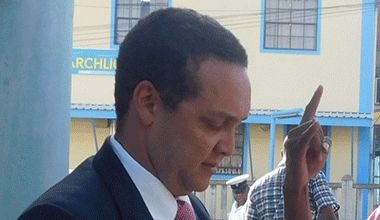 The Adrian Deane human trafficking case that was last week thrown out at the Serious Offences court has been described by lawyer Grant Connell as, "just another case where the police put the cart before the horse."
On Thursday, Deane, a 61-year-old businessman, was set free when he appeared at the Serious Offences Court, after having the charge over his head since October last year.{{more}}
The Brighton resident became the first person to be charged here since the Anti Trafficking in Persons Unit (ATIPU) of the Royal St Vincent and the Grenadines Police Force was set up on March 12, 2012. He was charged under Section 5, sub-section 1 of the Prevention of Trafficking in Persons Act of 2011, with three counts of engaging in trafficking in persons and was accused of committing the offences between May 11 and September 30, 2015.
But Connell, Deane's lawyer, said that if the police had done proper investigations, they would have seen that the Jamaicans' complaints were bogus.
Speaking on Monday, Connell said that instructions were given by the head of the Criminal Investigation Department (CID) Ruth Jacobs to investigate the matter after a one-hour conversation with the Jamaicans and on completion of the investigation, the file was reviewed. Connell is of the opinion that the electronic interview, which was conducted with Deane, in which he told his side of the story, "was not even looked at by the head of the department before deeming the file complete."
"…The case had no merit. I guess it was done in haste to prove to the world that we were being effective, but in the process, a hard-working Vincentian who runs a business, trying to make ends meet in this harsh economic climate, was sacrificed," said Connell, stressing that in his opinion, "the police are in dire need of proper training and if the powers that be fail to address the issue, the society will pay the price."
Connell said that when the case was heard last Thursday, the prosecution stopped the trial after one of the Jamaicans, Dervant Clarke and CID boss Ruth Jacobs gave their testimonies.
"Jacobs set out what human trafficking was, the elements etc and the Jamaican, under cross-examination, said he decided to stay and try to make it work. He said they had their passports all the time; that they used to be free; they were fed by Mr Deane, who also gave them money, paid their rent…so what, where was the human trafficking?"
Connell added also that the Jamaicans at times would request "snapper that was not sliced and bottled water and Mr Deane gave them all that, but it was when he pulled the plug and say he was going to send them back, they ran to police and told the story they did.
"In my opinion, the police wanted a case of human trafficking so bad, they run with it. Superintendent Jacobs and her team will have to continue in their quest to find a case of human trafficking in St Vincent and the Grenadines and try to create history, but if it does not exist, simply say so and thank God. We still seem to be mentally shackled and can't think for ourselves and tell it as it is, still acting to please Massa," said Connell.
When contacted, Deane said that he was grateful that his ordeal was over.(LC)