Posted on
Vincy policeman saved 'son' from life of drugs, crime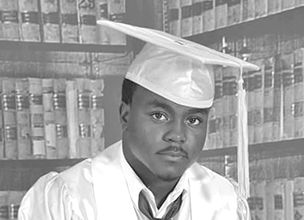 When Sergeant Winston Grant responded to a report of a break-in at a home in Bight, Turks and Caicos Islands in 2007, he scarcely imagined that it would lead to him and his wife taking the young perpetrator into their home – and later adopting him as their son.{{more}}
Sergeant Grant, who is Vincentian and has been serving in the Turks and Caicos police force for almost 11 years, said that when police found the 15-year-old boy hiding in the closet of the house he had broken into, he (Grant) could see that he was "troubled and in need of assistance".
"I wanted to help, but I had to carry out the necessary police procedures, as requested by the complainant," he explained.
Subsequently, the boy was arrested and charged with the offence. But during the court proceeding, Grant put himself out on a limb and told the magistrate and social welfare officer that he would take responsibility for the boy, if the court saw fit to place him in Grant's custody.
"Without any consultation with my wife, I took him to my home," he recalled.
"I went home and told my wife 'Ingrid, this is our son, and he will be living with us until he can support himself'. Without hesitation, she accepted him."
The rest, as we say, is history.
In 2011, Grant and his wife Ingrid officially adopted the young man – who is now 23 years old – and have since had four other children (three girls — one of whom died in a car accident last year — and a boy), who look up to the once-troubled youth as their big brother.
The young man expressed heartfelt gratitude to Grant, whom he considers to be his father, and said that the policeman's and his wife's kindness changed his life forever, saving him from a bleak future.
At the time that he had committed the offence, he had been living in a one-room shack on his own, as his mother had passed away when he was three years old and his father had later abandoned him.
"I struggled throughout my primary and secondary school years; I would steal and sell drugs to make money to get food to eat throughout the day. Those who I sold drugs for only encouraged me to it and I thought it was okay, because it helped me to feed myself, but that very day the law caught up with my bad decisions," he recalled.
"If it weren't for the police officer who is now my father, I probably would have already gone to prison and lost in doing illegal things… Today, I am a better man… I always thought the police were heartless and were in my way when I wanted to do wrong things at the time. Those thoughts have changed, and there are compassionate and loving police officers out there and my dad Winston Grant is a prime example."
Sergeant Grant said that even though his son is now an adult and has successfully graduated from secondary school and community college, their relationship is so close that his son still comes to him for advice.
"I am so happy that I took him into my family's life, and I have no regrets," he explained.
"Even as a grown man he calls me to tell me where he's going. I appreciate the way he shows his love to my family and me as an appreciation of how we helped him changed his life."
Grant and his wife are originally from Park Hill and Edinboro, respectively, and have been married for 25 years.
Now a resident of Providenciales (Turks and Caicos Islands), Grant left the Royal SVG Police Force in October 2005 to join the police in Turks and Caicos.