Posted on
Youlou Arts Foundation hosts fund-raiser to establish arts centre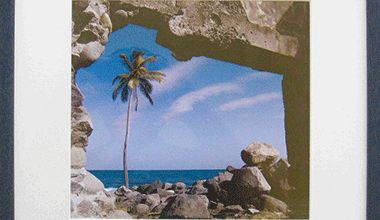 by Camille Saunders Musser
Yes, there is more to be said about the second annual Art Show and Sale, organized by Youlou Arts Foundation, which took place almost a month ago, at the Curator's House in the Botanical Garden.{{more}}
This event was billed as a benefit for Youlou Arts Foundation to raise funds for the establishment of an art centre. Currently the organization is focused on this goal.
In 2000, when the Youlou Arts Foundation was launched, it proclaimed that its official mission is to promote the arts in St Vincent and the Grenadines. The first major project was the organizing of an annual art programme called "Growing Young SVG Artists," started in 2001. This programme is successful and is held every year during the July/August holidays. In 2010, Youlou Arts Foundation recognized the need for a venue dedicated to the arts, a space which will allow art to be showcased, encouraged and nurtured; the organization began fund-raising in earnest towards this goal. Youlou Arts Foundation believes such a venue will be a great asset for St Vincent and the Grenadines. The dream of having an art centre is grand! It is indeed something worth striving towards. It will not be achieved through magical thinking. Accomplishing this goal is difficult; it is indeed back-breaking. It is a long and arduous, it requires patience, deep commitment and most of all, courage.This challenge is compounded because we know that it is easy to see the arts as an unnecessary frill in developing nations. But the good news is it can be done by us, the people of St Vincent and the Grenadines. Youlou Arts Foundation is appealing to you for your support. The organization plans to make the Art Show and Sale an annual event.
By having an art show, local artists are given the opportunity to show their work to the public.
Artists in this year's show were Merle Gellizeau, Sean Roache, Christine Browne, Joy Celestine, Collette Jones- Chin, Tipi Punnett, LeeAndra Thompson, Shanique Stewart, Nzimbu, Cecile Comblen, Marc Erdrich, Shonette Bynoe, Leslie Gonsalves, Nadia Huggins, Lisa Walker, Kay Wilson, A Erdrich, and Camille Musser.
Donors who helped to make this event a success are Fantasea Tours, Sailor's Wildness Tours, SVG Players Mas Band, Gonsalves Liquors, Jankie Glass, Cafe Soleil, Vee Jay's, and Brio Che.