Posted on
Climate change, youth unemployment: issues of grave concern at IAC meeting – Sir James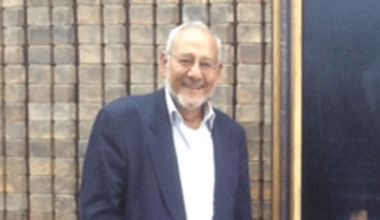 Former Prime Minister Sir James Mitchell recently attended a meeting of the Inter-Action Council (IAC), at which the issues of climate change and youth unemployment were of grave concern – issues which are very much relevant to St Vincent and the Grenadines (SVG) and the wider region.{{more}}
Speaking to SEARCHLIGHT, Sir James noted that climate change, in particular, was a hot topic, because of its effects on water resources, especially considering the effects of flooding and drought on farming and agriculture.
Noting that the specific effects of drought in the Caribbean are not as bad as in some parts of the world, he expanded: "The amount of water being produced by the melting of the snow in the Arctic is phenomenal. That water, when it melts like that and if the temperature isn't there for it to go back to ice, when that amount of water melts it has to go somewhere. It goes either in sea level rise or up into the atmosphere and creates floods in places that were not expected before."
He added: "There are lots of countries getting floods… where they never had floods in living memory… It is a massive phenomenon that attention must be paid to in respect of all these decisions on global warming."
Moreover, Sir James said that youth unemployment sparked much discussion, as the manufacturing jobs worldwide are increasingly being taken over by robots and machinery.
He explained that this has led to more and more youths turning to the service industry.
"The service industry is just really taking up the employment, and the youth have to be trained to take up all these opportunities in the service industry."
This was the seventh annual IAC meeting that Sir James has attended, and it took place in Baku, Azerbaijan, from March 7 – 11.
The annual meeting sees attendance from former heads of government from around the world with a "very wide cross-section of membership."
Describing the annual meeting as a "think-tank" to discuss various issues and make recommendations, Sir James explained that his attendance also benefits in the promotion of SVG – with particular regard to investment.
"The fact that I am there, you get your pictures into all of these [member] countries and you get interviewed by the media… they want to know more about your country et cetera… So, I try and promote St Vincent as a place of investment, because there [at IAC meeting] are lots of people there who are close to sources of wealth for investment."
Over the years, IAC meeting attendance has seen Sir James attending meetings in countries such as Saudi Arabia, Japan, Bahrain, Canada, and China.
The organization was originally founded in 1983 by former German chancellor Helmut Schmidt and former Japanese prime minister Takeo Fukuda, both of whom are now deceased.
While in Azerbaijan, which is located in Europe and bounded by the Caspian Sea, Sir James also attended a secondary meeting called the Baku Global Forum, which hosted other global leading figures, who were not necessarily members of the IAC. (JSV)