Posted on
AUS students donate to Paediatric Ward at MCMH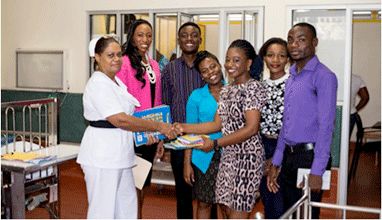 by Dr Shakel Henson
One would expect individuals of the medical profession to be considerate and willing to serve. On Holy Thursday, March 24, the students of the American University of St Vincent School of Medicine (AUS) demonstrated these aforementioned qualities when they visited the children who were hospitalized at the Milton Cato Memorial Hospital (MCMH).{{more}}
Recognizing the need to bring a smile to the faces of these children, members of the Student Government Association (SGA), along with staff and faculty at the AUS, did a simple act of service to the children who were on the Paediatric Ward at the MCMH. Stories were read and the children were taken along the respective journeys that their books outlined. During that period of time, these children were distracted from the fact that they were hospitalized and they were comforted by the joys and adventures, which the medical students of AUS willingly shared.
The actions of these medical students were well received, not just by the children, but also by the parents, guardians, well-wishers and staff at the MCMH who were present on the Paediatric Ward. The purpose of the visit was to bring Easter joy to the children who were hospitalized at the MCMH, by donating a book and subsequently reading and interacting with them. Additionally, it served as a reminder that medicine is not merely a science, which involves treating and then discharging patients, but it also has a social component.
The students, staff, faculty and management of the AUS will continue to do its part by incorporating this social aspect of medicine, so that as many persons as possible, who are living in St Vincent and the Grenadines, can benefit.