Posted on
Visitor barred from entering recreation site with dog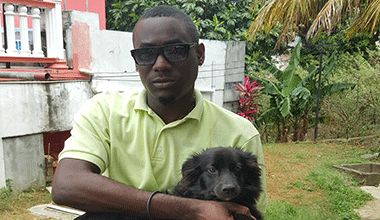 The rule prohibiting pets from entering recreation sites has come under fire from a recent visitor to one of these sites, with the visitor saying he is also displeased about the manner in which he was spoken to by a park ranger.{{more}}
Courtney Baptiste, a visitor to Dark View Falls, a popular recreation site on the Leeward side of mainland St Vincent, has described as "unprofessional and rude", the manner in which he was approached by park ranger Maxwell 'Erasto' Robertson, in relation to a puppy he had taken there.
But Robertson has denied being disrespectful, stressing that he was just trying to enforce the 'no pet' rule that exists at all sites operated by the National Parks, Rivers and Beaches Authority.
Baptiste, a Lowmans Leeward resident says that he and a few friends visited the Dark View Falls on Sunday, March 13, paid to enter the premises and was not told by the lady at the entrance booth that animals were not allowed. He said that there were no signs stating that a 'no pet' rule was being enforced.
Baptiste says that on entering the premises, with his puppy on a leash, he was approached by a barefoot dreadlocked man in a vest who shouted at him that he should leave with the animal. He said that the man did not identify himself as a park ranger and seemed irate.
"I did not know the man, I think was just a random person talking to me because he wasn't dressed in any formal way, nor did he identify himself. He was saying weird things like he owns the site and I should leave with the dog," recalled Baptiste who said that he put up a resistance to the dreadlocked man, who then called the police.
"I was later told that no animals were allowed on the site but I should have been told that before I entered because the woman that took the money from us saw the dog. The way in which I was approached by the Rasta man was very rude and unprofessional, I didn't know who he was," said Baptiste who opined that if he were a white tourist he would have been dealt with differently.
When contacted, director of the National Parks, Rivers and Beaches Authority Andrew Wilson said that he was informed by the park ranger about what took place and it is a fact that they don't normally allow animals on the sites.
Wilson explained that there are a number of reasons why animals, especially dogs are not allowed, among them being the danger they pose to other guests.
"Basically we say no pets on site. Sometimes the owners don't contain them properly when people want to relax. Maybe if it's a blind person with a guide dog we will allow it," said Wilson.
The director said that he recently returned from Grenada where the tourist site operators do the same thing in relation to animals. Wilson said that locally, even on a number of public beaches, he has had complaints about animals defecating in the sand and owners not cleaning the mess and there are instances where persons have stepped in the faeces and have contracted parasites like ringworms.
"We are debating some of these issues with the beaches. Hotels have complained to us and at times some of these big breed dogs create security issues and people feel unsafe. There have been dog fights and there have been instances where because of these fights, the owners get into confrontation", said Wilson who added that it is unfortunate if Baptiste thought he was not treated properly by the park ranger.
Robertson, in an interview with SEARCHLIGHT said that at the time of the incident, he was not on duty and had taken some relatives on a tour of the site.
He said he heard the dog before he saw it.
"I was reluctant to get close so I called to him socially and by something he said I felt threatened so I called the police," said Robertson.
He said that normally, they would ask persons with animals not to enter the premises and if somebody turns up with an animal, they would ask that person to leave the animal in a specific area.
"No one is not allowed with animals. The thing is you can't have a site and allow animals, this is an international standard as there is usually a no pet zone on reserves," said Robertson.
He denied speaking to Baptiste roughly and said in his opinion, it was not "such a little puppy."
"We have had to put off people with dogs before and also the area is a no fire zone and the same day some people left with their BBQ grill because we told them it was a no fire zone," said Robertson.
He said that the incident has now spurred them to put up signs with rules.
"We would like to appeal to other folks to stop taking pets. We have a business and we have to maintain a certain standard and we can't compromise," stressed Robertson.
Robertson, who has been a park ranger for over 12 years and has responsibility for the sites on the Leeward side of the island said that persons must consider that animals like dogs carry vectors like fleas and lice and the sites are public areas.
Internationally, at most national parks, dogs and other pets are not allowed, however, dogs are welcome in many conservation areas, regional reserves and nature recreation areas, but must always be on a leash unless signposting allows them to be off lead.
In most cases, local regulations will stipulate whether dogs are permitted and under what conditions (e.g., on a leash). The rules however change for assistance dogs, or dogs that provide support for people with disabilities. This is usually an exception to the regulations and dogs are allowed to accompany their handlers into national parks and reserves.