Posted on
PM Gonsalves appeals for extreme caution over Easter weekend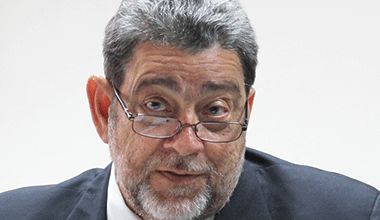 In the wake of the drowning of 13-year-old Kimron 'Champion Boy' Lowman, Prime Minister Dr Ralph Gonsalves has beseeched persons to be extra careful on the roads and the beaches over the Easter weekend.{{more}}
On Tuesday, during a press briefing at Cabinet Room, Gonsalves asked persons using the beaches, taking part in water activities like boating, motorists and other road users to exercise extreme caution, so that we come out of the holidays without fatalities.
Lowman, an Edinboro resident and a student of the Dr JP Eustace Memorial Secondary School, is said to have drowned in the vicinity of the Young Island dock at Villa.
Reports are that a school trip scheduled for Monday was cancelled, so he and some friends decided instead to go to the beach.
Lowman drowned while bathing at around 10:40 a.m.On Tuesday, the Prime Minister said that he has been in contact with Kimron's mother and he had asked her to visit his office for a meeting with the Cabinet Secretary.
"What can you say in a time like this when a mother loses her 13-year-old son?" asked Gonsalves.
He said that in the wake of this tragedy, he is asking persons to be careful this weekend.
"I want to ask please, this is the Easter weekend coming up…let us try to see if we don't have any of these unfortunate incidents happening at the sea.
"I know a lot of people go to bathe; try to stay away from places which are dangerous for swimming; make sure that you can swim; don't be too adventurous, you can enjoy yourself without being adventurous," stressed the Prime Minister, who asked the media to join with him in spreading the safety message.
He added, "I am asking people, please, I know people drink and go inside the water and can't coordinate themselves properly; let's exercise a little care. We are small communities, just 110,000 people and when lives are lost like this, it pains me greatly; it's like I have lost somebody­­­ close to me like my family."
Gonsalves also appealed to motorists and road users to operate with safety, as he would be extremely pleased if we can get past this weekend, particularly from Thurs-day until Tuesday morning, without incident.
He noted also that he would not be on the road because of religious reasons, while reminding persons that he was almost killed in a motor-vehicular accident on Easter Monday 2007, when someone ran into the vehicle in which he was travelling, breaking his driver's collarbone.
The Prime Minister said that he has asked Commissioner of Police Michael Charles to make sure that the traffic department, and the police force on a whole (including the Coast-guard), are on the alert and to pull people off the road if need be, "for their own sake and other people's sake."