Posted on
Ambassador Biji pays visit to Chamber of Commerce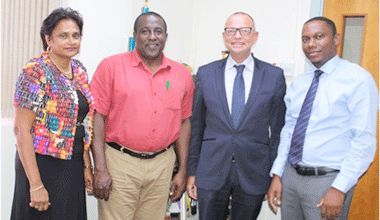 Ambassador of the Kingdom of the Netherlands Jules Biji and honorary consul Camille Crichton paid a courtesy visit last week to the St Vincent and the Grenadines Chamber of Industry and Commerce. They met with the president Wayne Hull and executive director Tony Regisford.{{more}}
The discussions held explored avenues in which the Kingdom of the Netherlands could be of assistance to the Chamber in providing business support, capacity building and stimulating growth in the private sector. Of specific interest was the training in critical areas of business management for entrepreneurs, start-ups and persons in established businesses.
Both parties have committed to moving the discussions forward to a tangible outcome.
An invitation was extended to the Chamber to attend a conference in Aruba, March 22 to 24, on Public Private Partnerships (PPP's).