Posted on
UISS Young Leaders launch project in grand style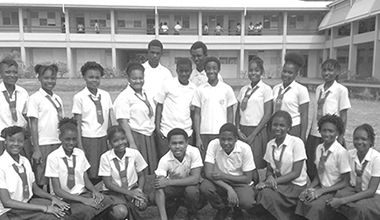 On Saturday, February 28, members of the community and surrounding areas in Union Island were blown away, as the Young Leaders of the Union Island Secondary School (UISS) launched their project for this year with a grand concert.{{more}}
This year's RBC Young Leaders theme is "Me…You…We…A shared vision for a better society". With this theme in mind, the UISS Young Leaders have adopted the sub-theme "We are all God's creation. Let's join hands to create a better society."
The concert, held in the auditorium of the Mary Hutchinson's Primary School, was well-attended by the students, staff, parents and many community members. The audience saw performances, including choral speeches, drama, songs, dances, cultural features and other presentations, not only from the Young Leaders, but many community members.
Addressing the event, keynote speaker and retired guidance counsellor Ann Hendricks congratulated the students for being part of such a group and reminded them of the important responsibilities they have as young leaders. She also charged them to be good role models to their peers at school and also others in the community and urged them to do their best at whatever they do.
Rokenzia Bute, on behalf of Beniah Robinson, delivered the president's speech. He encouraged everyone to believe in themselves and to have a positive self-image. He encouraged the audience to support the Young Leaders programme in whatever way they can, as it is not only for the Young Leaders, but each person coming together, working hand-in-hand to make the society a better place.
The main feature of the concert was a drama done by the Young Leaders on bullying and the effects it can have on students.
Teacher and one of the Young Leader's co-coordinators Leah McNicholls expressed her gratitude to all who came out and supported the programme. She observed that despite the many challenges, she was happy that the Young Leaders have been dedicated and actively involved in the programme and urged them to keep on fighting the good cause.