Posted on
Elderly, less fortunate treated to Heroes Day luncheon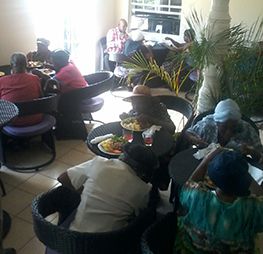 While much of the activity for National Heroes Day took place on the Windward side of the country, the elderly and less fortunate of the South Leeward constituency were treated to a hero's luncheon, put on by D Tunnel Restaurant and Bar of Campden Park on March 14.{{more}}
The restaurant, located near to the Bethel High School, hosted the complimentary luncheon for about 75 senior citizens, in conjunction with radio personality Randy Dopwell.
The attendees were drawn from as far as the Buccament Bay Home for the Elderly and from various churches in the area.
The event, which began at 1 p.m., and ended at 6 p.m., started off with a prayer session, followed by the luncheon and karaoke session.
Host of the luncheon Wran Gould, who is the proprietor and manager of the restaurant, said he was "well pleased" to give back to the community and pledged to make it an annual event.