Posted on
SVG donates books to Martha's Vineyard library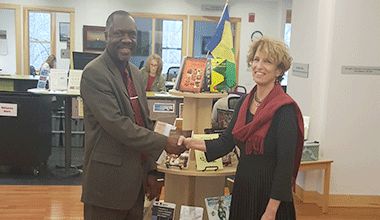 Efforts to deepen ties between St Vincent and the Grenadines (SVG) and Martha's Vineyard went a step further last weekend, when this country's Consul General to the United States, Selmon Walters, led a three-man delegation to the sister island to hand over a quantity of books, among other things.{{more}}
The books were handed over to Beth Kramer, director of the West Tisbury Library.
According to Walters, the donation is in response to the 100 boxes of books SVG received from the West Tisbury Library last year. The books are by Vincentian authors at home and in the diaspora. They include books by Prime Minister Dr Ralph Gonsalves, former Prime Minister Sir James Mitchell, and Dr Edgar Adams. Most of the books were donated, except those which were purchased from Dr Adams with money contributed by GECCU and the National Lotteries Authority. There is now a Vincentian corner in the West Tisbury Library where residents and visitors to the Vineyard can be informed of various aspects of the Vincentian culture. Walters is hoping that this will result in an increase of visitors from the Vineyard to St Vincent and the Grenadines.
The delegation also held talks with the assistant director of the human resources at the hospital to explore the possibility of employing Vincentian nurses there. While the need for nurses exists, there are procedural and legal hurdles to overcome to make this a reality.
Additionally, the delegation visited the secondary school and held talks with the interim principal to implement an ePal programme between students in SVG and the Vineyard. That programme, according to Camille English, is slated to commence later in the month.
The delegation also reported that August 27, 2016 is set aside for a Vincentian Cultural Arts Festival at Featherstone Center for the Arts on the Vineyard. This will be an annual event and will follow the Vincy Day Event in New York, which is set this year for August 20th. This festival will showcase Vincentian music and cuisine, as well as visual and performing arts. Vincentians at home who wish to take advantage of their goods and services are asked to contact the Consulate in New York. Camille English and Anita Botti will spearhead this event.
The Consul General's delegation comprised Dr Eversley 'Teddy' Linley, a Vincentian attorney in Boston; Camille English, consular volunteer on diaspora matters and the Consul General. The Vineyard's delegation comprised Anita Botti, Martina Thornton, Dukes County manager and Beth Kramer, director of the West Tisbury Library.