Posted on
Journalist helping 'zero hunger' fight with song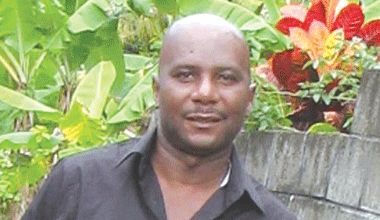 The audio clip for the original song is scheduled to be released today, Friday, March 11, 2016, via the Internet on social media networks You Tube and Facebook, and on Peters' soon to be launched official website:{{more}} www.ashfordpeters.com Peters wrote the song in 2014 and recorded an amended version for the
Christmas of that year, but did not market it. The recording of the original version was completed earlier this week.
"Do you know what it's like to feel the pains of hunger? And what it's like to be a child without dreams?" says part of the first verse.
"When you see the hunger in their eyes, we can make a difference in their lives. Give a smile to a child; let's make them smile," the first part of the chorus says.
Peters said that hunger is a world problem and the United Nations (UN) has a number of strategic interventions to curb this crisis and transform the world. And, according to the UN, there are 795 million hungry people in the world and it is estimated that by the year 2050 another two billion people will be hungry if a profound change is not made in the global food and agriculture system.
Peters says that while, according to the UN, the food and agriculture sector offers key solutions for development, and is central for hunger and poverty eradication, two major factors affecting the sector are war and climate change.
"There is no doubt that war and climate change contribute immensely to scourge of hunger around the world. War, through the use of sophisticated heavy weapons, destroy land mass and agriculture, thus posing great threat to food security as does climate change," Peters said.
"And what about use of chemicals and other notso-publicized agents used in war; don't they impact the environment and climate change?" he asked.
According to the UN, poor nutrition causes nearly half (45 per cent) of deaths in children under five – 3.1 million children each year and 66 million primary school age children attend classes hungry across the developing world, with 23 million in Africa alone.
"When war is not killing our children, hunger is.
There is a direct link between war and poverty.
And poverty results in hunger," Peters says.
Peters is an independent songwriter. His first song titled 'Start My Fire,' was released in August 2014. Two other songs scheduled for release soon are; 'Give It To You Raw'and 'Tell It To The Children.'