Posted on
Grammar School positioning students to maximize ICT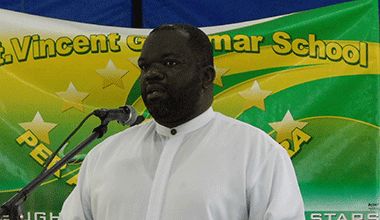 The St Vincent Grammar School (SVGS) on Tuesday launched its first annual Information and Communications Technology (ICT) fair, under the theme 'Connecting ICT to your world'.{{more}}
During remarks, the school's headmaster, Curtis King, said that as part of the SVGS development plan, the school identified the enhancing of the integration of ICT in the teaching-learning process as one of its five priority areas for its current school year.
King stated that an ICT committee, comprising representatives of all subject departments at the school had been formed and is charged with the responsibility of executing its aim, which also ensures that the teaching-learning process is both attainable and relevant.
"What we have done is to ensure that each department is adequately represented on this committee to ensure that our programmes are broad based and seek to reach as many persons as possible," he explained.
According to King, through the efforts of the committee, the school has formulated an ICT policy, which was recently adopted; the school has networked its major components through a router; reintroduced e-mark books for teachers; and ensured that each of the labs, except for the chemistry lab, has an overhead mounted projector.
"We are seeking to move even beyond that, in terms of what we have done in the production of e-newspapers and other relevant materials that would help to enhance our programme and, of course, attain our objectives," he explained, adding that the school has sought to enhance and improve the services that they deliver.
"We want to ensure that our students are in fact in the position to maximize the use of their knowledge relative to the computer, relative to the Internet and all the other relevant aspects of ICT."
King then urged students to make the best use of the activities.
"We are hoping that this activity would help our students to see the importance of employing a holistic approach, beginning with these and other issues," he said.
Featured speaker at the event, science and technology co-ordinator in the Minister of Economic Planning Philip Jackson encouraged students to think about ideas that would live longer than their perception of that idea.
Jackson congratulated the SVGS for taking the initiative to maximize the use of the ICT, stating that the Government has spent hundreds of millions on ICT investments.
"The Government can only do so much, but if you do not take those resources and fashion them into something creative, into something worthwhile, into something productive, then the investment would've failed," he said.
The former teacher challenged the teachers to also share information with other schools. He also challenged teachers and students to create an open online curriculum and to have Powerpoint topics.
Jackson also suggested to the IT students that they become IT ambassadors to help the less computer literate members of the society.(AS)