Posted on
Curtains close on annual Art Show and Sale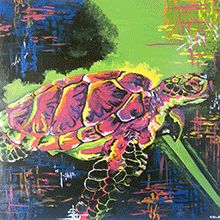 The second annual Art Show and Sale organised by Youlou Arts Foundation took place from February 26 to March 9 2016 at the Curator's House in the Botanic Gardens. The opening reception and benefit were held on Saturday evening, February 27 2016.{{more}}
This festive event was well attended by long-time supporters of the organization. There were food, entertainment and wonderful gift certificates were auctioned to raise funds for the establishment of an Art Centre.
The event was organized by Lenore Layne, Sean Roache, Camille Crichton, Ruth Knights, Eleanor Astaphan, Kenlyn Alves and Camille Musser.
Planning for this event started last October when a call to all local artists in St Vincent and the Grenadines was announced. Eighteen artists responded and participated in this year's show. There was a wide range of art on display this year. The work ranged from decorative, practical objects made from driftwood and local fibres, to delicately hand embroidered dolls. Also in the show were paintings on canvas, photography, some of it printed on canvas and banana leaf art.
Many of the artists chose themes which dealt with nature and family. It was exciting to see the work on display. Local artist do not often have the opportunity to show their work to the public.
Artists in this year's show were Merle Gellizeau, Sean Roache, Christine Browne, Joy Celestine, Collette Jones – Chin, Tipipi Punnett, LeeAndra Thompson, Shanique Stewart, Nzimbu, Cécile Comblen, Marc Erdrich, Shonette Bynoe, Leslie Gonsalves, Nadia Huggins, Kay Wilson, A. Erdrich, and Camille Musser.
Donors who helped to make this event a success are Fantasea Tours, Sailor's Wildness Tours, SVG Players Mas Band, Gonsalves Liquors, Jankie Glass, Cafe Soleil, Vee Jay's, and Brio Che.