Posted on
Coreas donates tools to assist with clean-up efforts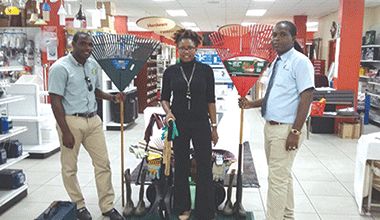 Coreas Hazells Inc, through one of its stores Ace Hardware, has donated a quantity of equipment and tools to assist with the national clean-up efforts, involving various community groups throughout the state.{{more}}
The items, valued in excess of $2,500, include wheelbarrows, rakes, shovels, cutlasses, water boots and gloves, and were handed over to the Ministry of Health, Wellness and the Environment on March 3.
Marketing coordinator at Coreas Hazells Inc Ezzie Roberts, who made the presentation on behalf of his company, said that that occasion was not the first time Coreas Hazells Inc had reached out to the Ministry of Health. He referred to the contributions made during the period of the outbreak of the Chikungunya virus.
"Each individual has a personal responsibility in eliminating breeding areas for mosquitoes. It was, however, felt that the company has a corporate responsibility in ensuring that we make that extra effort to ensure that we have a healthy population," Roberts said.
The Ministry of Health was represented at the handover by communications officer Neeka Anderson-Isaacs and senior environmental health officer Todd Lewis. Anderson-Isaacs expressed her appreciation to Coreas Hazells Inc on behalf of the Ministry.