Posted on
Mother of alleged kidnap victim not happy with newspaper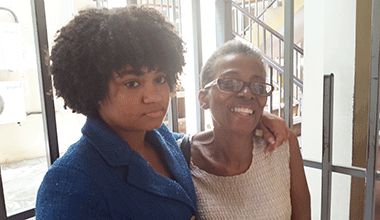 According to Craigg-Jones, the article was obtained under false pretences.{{more}}
Craigg-Jones alleges that the journalist who interviewed her and Samantha Nicholls (Alleyne's girlfriend) did not identify herself as a media professional, so they assumed that she was a police officer, as the interview took place at Police Headquarters in Kingstown. She is also alleging that her son did not know he was being interviewed for the newspaper.
But journalist Chanolde Munroe is adamant that from the first moment she approached Alleyne, she told him she was there as his cousin, to find out how he was doing and she was also there in her capacity as a SEARCHLIGHT journalist.
Munroe said Alleyne, who is 23 years old, posed for a photograph and allowed her to tape the interview. She also has documented proof (Facebook Messenger messages between herself and Alleyne) that Alleyne knew that he was being interviewed for SEARCHLIGHT's Weekend publication.
Munroe said on Thursday morning, she received a message from Alleyne asking her not to run the story "yet". She said when she asked why, he said there were speculations that the kidnapping was a publicity stunt, so he is trying to stay out of the media.
On Monday, via telephone, Craigg-Jones demanded an apology from SEARCHLIGHT and claimed that she would be seeking legal advice.
The upset woman said that on Wednesday, March 2, she went to the Criminal Investigation Department (CID), along with Nicholls and saw her son speaking to Munroe and assumed that the journalist was a police officer. She said that Nicholls went over to Alleyne and after a period of time had passed, she asked Nicholls to leave Alleyne and Munroe alone.
"I said that the officer had work to do and she (Munroe) continued speaking and then she asked me to step outside because she needed to ask me a few questions," recalls Craigg-Jones, who added that Munroe asked her and Nicholls questions, took their photograph with their permission and went back to Alleyne.
Craigg-Jones said that when she heard Munroe tell Alleyne she was leaving for the office, she then enquired where the office was and was told "SEARCHLIGHT". She added that her son then told her "that was Chanolde, one of our cousins."
The Belair resident said that at that point she told her son that Munroe had asked them questions and taken their photograph, so then, according to Craigg-Jones, Alleyne then decided that he would tell Munroe not to publish the story because the police were doing investigations and it might be dangerous for them.
She said that on Friday, someone telephoned her and told her that the article had been published. Craigg-Jones admitted to never enquiring of Munroe if she was a police officer and said at no time did Munroe say she was a police officer.
"I was not there when she and Kevon had the conversation, so I could not say what Kevon said, but I am sure with the young lady and me, all she said was 'step outside I want to ask you a few questions'," said Craigg-Jones.
Persons on social media site Facebook took to their personal pages to voice their opinion about Alleyne's alleged kidnapping, with most persons claiming that the incident, as described by Alleyne, left many unanswered questions.
Said Craigg-Jones, "I don't know what is the reaction on social media…if she had told him that she was going to report this story, he wouldn't have said things that he said, like he got his hand loose, but he kept it behind his back.
"I mean, it sound fascinating, but what about if the people were to recapture him, what about if they were to pick up another poor innocent person; how they would treat them? These are the little worrying things in the whole situation for me," said Craigg-Jones.
She said that Alleyne has not left the country, but he has taken down his Facebook page and is still quite shaken up and having problems sleeping and "he is still perturbed about the article."
Added Alleyne's mother, "she's our relative and she came under the guise of being a concerned relative and I think that's unfortunate."
Munroe said Alleyne agreed to the interview, but subsequently changed his tune because of the negative responses from persons on social media.
The incident is the hot topic of discussion on morning talk show on radio stations and social media.
Up to press time no one was charged in relation to Alleyne's alleged abduction.