Posted on
Firefighters undergo training to work at Argyle International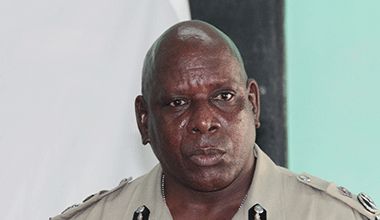 Firefighters who will be attached to the Argyle International Airport last Wednesday began a two-week training course on how to combat safety issues that may arise at the new airport.{{more}}
"Today will take us closer in realizing a dream that most, if not all Vincentians, hope to come through with opening of the International Airport at Argyle," said Commissioner of Police Michael Charles, while speaking at the opening ceremony for the course at the Old Montrose Police Station.
Charles told officers that the trainer of trainers course would bring St Vincent and the Grenadines (SVG) closer to the opening of the airport. He also urged officers to pay close attention to the training that would be given to them by course facilitator Walter Cook.
During her remarks, communications officer at the International Airport Development Company (IADC) Jennifer Richardson noted that on Monday, November 3, 2014, members of the SVG fire service, headed by Superintendent Isaiah Brown, took charge of three new fire trucks destined for the Argyle International Airport, but they have been laid over at Arnos Vale because Argyle was not yet ready to accommodate the trucks.
Richardson said the trucks boast a carrying capacity of 3,000 gallons of water and 420 gallons of foam and the time is fast approaching when those trucks will be needed at Argyle.
"Persons who will operate and care for them must be properly trained to carry out their duties as firefighters," she added.
The communications officer said she was happy to see the start of the specialized training geared towards airport firefighting.
"Hence, those who will be attached to the Argyle International Airport are here today, and it tells me we are that much closer to the start of operations at Argyle. And so, this part of the operations, which is a vital part, is being put in place."
Richardson stated that although regular fire-fighters are trained to deal with aircraft accidents, they do not receive the same level of training as airport firefighters who specialize in that field.
She explained that by law, an airport would not be able to operate without fire cover, unless it is an emergency and that is left to the discretion of the captain of the aircraft.
"Without you, the airport cannot operate," she said.
Also speaking at the opening ceremony, course facilitator Walter Cook stated that he intends to deliver a curriculum that will take officers to the leadership level.
"I look around, I see future officers, future chiefs," Cook told the trainees.
He further stated that officers will deliver leadership, self-accountability and that persons will land safely on the incoming aircraft.(AS)