Posted on
Teachers urged to nurture imagination of students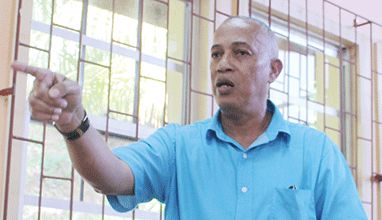 Budding musicians were earlier this week given the opportunity to improve their skills and have a better understanding of the music industry and its components.{{more}}
This was through a writing and performance symposium, which was held in collaboration with the Ministry of Education, Calypsonians Association and the Carnival Development Corporation (CDC).
Speaking at the symposium on Tuesday at the Peace Memorial Hall, education officer in the music department at the Curriculum Unit Dennis Jardine encouraged teachers to nuture the imagination of their students.
"Teachers…it is very important for us to educate the imagination. The imagination is one of the most powerful things we have. Without imagination nothing can be accomplished.
"Instructing the young ones in the arts is a way to teach and to develop the imagination and so we hope with the involvement of the schools in the junior calypso and other artistic endeavours is a positive step to develop and the teach the imagination of the young," Jardine continued.
He stated that the symposium was not only for calypsonians, but for musicians to learn about the components of the music and performance.
"This is not only for junior calypso, it is across the board…whether you are doing gospel or calypso, you have to know how to handle yourself on the stage and how to present yourself."
Also speaking at the opening of the symposium, newly elected president of the Calypsonians Association Earl Bennett noted that it was refreshing to see the younger generation of musicians being used as facilitators of the symposium.
He also said that the Calypsonians Association is committed to seeing the development of the young people in the music industry.
"We think we need to make calypso more exciting. We think if we widen the pool, or [if] we can attract calypso writers to partner with schools that do not have capable persons or even those who are capable, we can do much better."
Bennett noted that his offer was not a criticism of the schools writing ability, but just an offer for a way to make the industry better.
"We cannot do it all by ourselves; we need you the writers, the teachers, the public to help us to find the right path. We need to go in the right direction," he pointed out.
He also stated that the association would be looking for sponsorship and partnership with stakeholders with similar interests to look at ways to better the calypso industry.
Representative from the CDC Oneka Morgan challenged the students to put their best foot forward.
"My challenge to you is to do better than the previous years…and for the new singers to put their best foot forward from the start."
She noted that the CDC faces challenges to have more participation from the schools and getting teachers involved in the competition.
"It is our intention to have more students moving from the juniors and transitioning into the senior competition."
The symposium consisted of three components: the performance technique, facilitated by Aurella "Queen B" Beache; the music business, facilitated by Rodney Small; and the elements of composition, by Garret 'Icon' John.(CM)