Posted on
SWMA calls on authorities to enforce garbage laws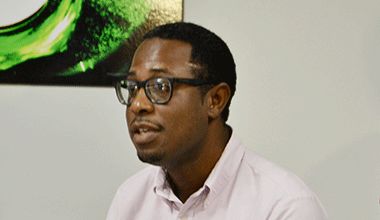 The manager of the Solid Waste Management Unit is calling on authorities to enforce the laws regarding littering and illegal dumping in an attempt to curtail the accumulation of waste in Kingstown and other areas.{{more}}
Speaking at a press conference last Friday at the Central Water and Sewerage Authority (CWSA) headquarters, Winsbert Quow pointed out that the police force plays a big role in enforcement of the Litter Act, which has been in place since 1991.
"We lack the serious enforcement of the law – it's not taken seriously," lamented Quow.
"Police can stop them or perhaps arrest them, because the law provides for that…
"Over the years, we have had discussions over and over again as to how we can curb this problem, but it comes back to two things. One: public education, and two: enforcement of the laws."
He noted that the CWSA has been partnering with the Public Health Department (in the Ministry of Health) on tackling the issue, especially within the Kingstown area.
"Kingstown is seen as one of those areas which is seen as a hotspot for littering and illegal dumping."
Quow noted that not only is this issue being exacerbated by members of the public, but also by business owners, who do not ensure that their waste is disposed of properly.
"No one institution can maintain a healthy environment. It requires every effort from all stakeholders, including at the household level."
He also added that although issues such as climate control, rainfall and sea level rise might be out of our control – on a local level – when it comes to waste management, we can do a better job.
"A lot of the problems we face is because of public behaviour… We still have a long way to go in changing people's mindsets… We have to appeal to people's national consciousness!"
On a positive note, Quow pointed out that there has been a huge reduction in the presence of plastics being seen in waste collected in and around Kingstown. However, Styrofoam is still a serious problem.
He also revealed that there is a project underway to place more waste bins around Kingstown that are more "robust" and will withstand tampering and weathering better.
In addition to this, Quow spoke of the white goods collection service (collection of old furniture and appliances contained around the home) that will run until the end of this week.
Having had nine of these collection events since 2011, the CWSA has in total collected 9,000 cubic yards of waste.
Quow encouraged the public to "take full advantage" of the service, and explained that white goods will be collected on the same day as normal garbage collection.
He added that the collections service not only helps reduce the impact of flooding when SVG experiences heavy rains, but also contributes towards eliminating breeding grounds for pests, such as mosquitoes.
Moreover, Quow opined that in terms of environmental parameters, such as air pollution, clean water, forest management etc, SVG has the potential to rank among the cleanest countries in the world.
"What they (countries ranked cleanest in the world) have over us is the strict enforcement of their waste management laws. They don't play when it comes to that!" he asserted.
"We can move into that category if we become a little more serious on the enforcement of laws." (JSV)