Posted on
Jazzy Organics opens doors to customers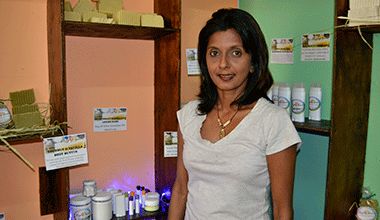 Owner Jasmin Deane, speaking with SEARCHLIGHT last Monday, February 16, expressed her delight at finally being able to serve long-standing and new customers from one fixed spot, after vending on the streets of Kingstown for just under two years.{{more}}
"After vending for a few years, it got a bit challenging. It's like you have to bring your stuff from home, transport them… I didn't want to stay at one level. I had a goal – to show my products and take it from where it was to another level!" enthused Deane.
She confided that even though she has just moved into her new store – which is located on the first floor of the DeNobriga Building (above Payless Shoe Source) on Upper Bay Street she already has plans to expand her product line and her business, thus requiring an eventual upgrade in store location.
However, Deane said that in the meantime she is keeping a cool head, and is taking her business expansion one step at a time – starting with increasing the number of outlets within SVG that stock her products, then tackling regional sales, through advertising her products in an online store.
"In life, everything is a process," asserted Deane. "I'm very emotional about it, because when I started, even though you have a goal in mind, it's like you're seeing a bit of the reality now!"
Although Jazzy Organics is most popularly known for the soaps that it produces, the skincare range also includes body lotions, body butters, lip balms, facial scrubs, eye creams, deodorants and candles.
Deane said that with her entire range, she prides herself in utilizing naturally sourced ingredients and avoids using the harsh chemicals and preservatives that are often found in commercially made products.
The ingredients used include a variety of oils (olive, coconut, tea tree, almond, lemon grass etc), plant extracts (aloe, rain tree, moringa, neem, arrowroot, marigold flower, citronella) and fruits (pumpkin, papaya, damsel and mango).
Additionally, some of her products also include oatmeal and honey, cinnamon, mint and ground volcanic stone.
Benefits of using products with natural ingredients
Deane explained that many persons tend to neglect their skin by using products that contain added fragrances and preservatives that strip the skin's natural moisture, and don't replenish said moisture properly.
She also said that using products that have natural ingredients is kinder on the skin, and can help to reverse some of the skin issues that persons tend to suffer from.
"The skin is one of the biggest organs, so most people think you treat yourself from the inside alone. The pores absorbs the ingredients a lot… All these parabens and chemicals can cause damage to the skin – maybe even cause cancer in the long run."
Deane added: "I can confidently say that my soaps and products will help you, because it's all natural and retains high quantities of glycerin… You won't see a change overnight, but you will get the desired results eventually. It's also better for the environment as well!"
Of the products that she makes, Deane said that her Rain Tree soap is the most popular – a soap that helps to relieve skin ailments such as eczema, rashes and acne.
Other benefits of her product line include: evening skin complexion, toning and restoring elasticity to skin, moisturizing, exfoliating, providing anti-fungal and anti-bacterial properties, neutralizing free radicals, eliminating skin blemishes and scars, and detoxifying.
Why this career?
A very active member of the Calder Salvation Army Church, Deane explained that she believes the inspiration to choose this career path came from above.
"God inspired me to do this," she insisted.
"I never really set out to make soaps, and to reach this far. I had reached a point in my life when I was very stagnant… and I was just praying to God, and asking Him to show me something that I would have passion for."
Deane recalled that during this "stagnant" period of her life, which had been brought on by the death of her father, she had read a post about soaps made with natural ingredients, and became curious about them.
From that point, she did a lot of research on the process then decided to give it a try.
"I just experimented. My brother used it first, then my friends came home and saw it on my kitchen table and I gave them pieces to try, and they started telling their co-workers!"
Deane said that she did a lot of research on the various plants and oils available in SVG that could be employed in her soap-making – receiving a lot of assistance from a friend of hers who is a plant expert.
"After trying to make soaps, I decided that I don't want to stay there. My vision started to become clearer, so I decided that I would take this to another level."
What's next for Jazzy Organics?
Of the opinion that a physical store will greatly improve her production and sales, Deane asserted: "Now that I have my store, I can focus more on expanding the range of products I offer. I was really juggling selling the stuff myself on the street and running back home to make more product."
She explained that she also intends to introduce a line of products specifically targetting men and their specific skincare needs.
"I do have a bit of male customers, but I want to encourage more of them to use my products."
She spoke of introducing hemp as an ingredient in this men's skincare range, as it has benefits similar to that of the Rain Tree, but may appeal more to men.
Additionally, Deane said that as her business expands, she would be able to employ more young persons to work within her operation and hopefully, be able to impart her skills to them.
"Even though they may not achieve some higher level of education, they could at least learn a skill and develop a creative mind; do their own little thing."
Deane encouraged the public to visit her store, and is offering a 15 per cent discount for customers who take a selfie with the owner at the store and post to social media, and a 20 per cent discount for customers who bring a friend to the store with them.
This promotion will run until February 29.
Jazzy Organics has a social media presence on Facebook and Instagram, and also has a website www.jazzyorganics.com. The owner can be contacted on (784) 526-1329. (JSV)