Posted on
INside OUT art show to open at cigarette factory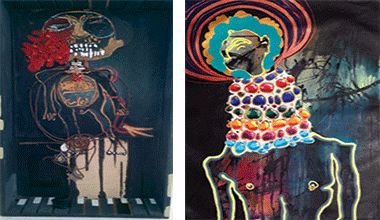 It seems to be the season for creativity in St Vincent and the Grenadines. March 4 will introduce the country's first art opening in an operational industrial setting, open free to the public for one evening only, with an electronic musical session to complete the experience.{{more}}
The Cigarette Factory at Arnos Vale is one of the few intact structures from our historic past to have survived more than 250 years, as a continually working part of the local industrial infrastructure. Originally built to process cane, as the works for Arnos
Vale estate, it became known in the past and present centuries, for processing tobacco into the well known Empire cigarettes.
The building will host 'INside OUT', a show by two of St Vincent's burgeoning artists, caroline booops sardine and Jeremy Payne. They are eager to contribute to the public's awareness of such historical structures and for the preservation of those spaces by repurposing them to be multi-functional. They have therefore volunteered to donate 15 per cent of their sales from the show to the National Trust. None of this would be possible without the generosity of the St Vincent Manufacturing Co Ltd. The artists and organizers are deeply grateful.
Caroline booops Sardine is a painter and sculptor whose work pays heavy homage to her culture, through story telling on canvas and in series of assemblages.
She attained an Associate Degree in Fine Art from the Barbados Community College, Barbados in 1996, a Diploma in Painting from the Edna Manley College of the Visual and Performing Arts, Jamaica in 1998 and a Masters in Painting from the Royal College of Art, London, England in 2001. She has participated in the Triangle Arts, Cyfunaid International Artist Workshop in Wales in 2001 and lived and worked in London until 2003. Home is where the heart is though, and so that year she returned to St Vincent and the Grenadines, the source of her inspiration.
A few years after her return, she met Jeremy Payne and there began the roles of mentor and muse, critic and comrade. Payne had just started the St Vincent and the Grenadines Community College, Division of Arts, Sciences and General Studies under the sagacious tutelage of Vonnie Roudette. He later went on to graduate in 2009 with a Certificate of Academic Excellence for Outstanding Performance in Art and Design.
Payne is known as well for successfully dabbling in fashion design, and his brand 'Fashion Is Payne' has become one of the more noted emerging labels around. His fascination with fabric is evident throughout his work, preferring to expose the surface for what it is, leaving many of his pieces unmounted.
The concept for this show came from curator Alexandra Grant, who longed to view the artists' work in a setting worthy of interacting with the painterly layers and textures of their pieces.
Grant is a graduate of Rhode Island School of Design, 2000, with formal training in Architecture and a BFA with a concentration in Apparel Design. Besides studying the History of Art and Architecture in Rome, she is a former assistant designer to Vera Wang, as well as a past muse and biographer for the world renowned French street artist, 'WK INTERACT'. It was during her association with the New York art scene that she was inspired to promote Vincentian artists in significant local settings complimentary to their work.
She stated: "For those whose misconceived ideas of art are 'pretty' pictures or a painting to match your couch, Payne and sardine will not be contributing to your calico decor. Their work is strong, to say the least. It is thought provoking, sometimes with regard to subjects one may find uncomfortable. 'INside OUT' is exactly what it is, a body of work from two artists that searches deep within the psyche, a memorial extrapolation to monolithic and sometimes macabre moments, presented via the media of paint and cloth, dirt and rags, and sentimental trinkets awarding you the viewer, a window of knowledge. It is a very brave and telling exploration, warts and all. In a small society where everyone knows your business, but doesn't really want to relate to the emotions behind the 'knowledge', here it is, hung out to dry."