Posted on
Seven schools benefit from donation from US organization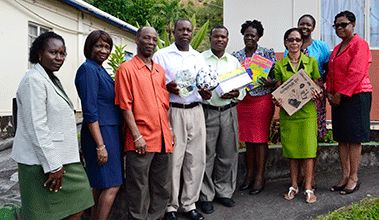 Seven local primary schools have once again been the recipients of essential school items in an annual donation received from the St Vincent and the Grenadines Nationals Association (SVGNA) of Washington, DC.{{more}}
Having begun in 1990, the organization's schools project handed over items such as pens, pencils, books, sporting equipment, printer ink and paper – among others – to the headteachers and representatives of the primary schools on February 15 at the Ministry of Education compound.
Representing the SVGNA was Albie Crick, who explained that the project was embarked upon as part of its mandate to contribute to the development SVG.
"One of our major projects so far has been the school project, which we have been doing now for 26 years," he noted.
He further explained that items donated to the selected schools vary according to the SVGNA's annual budget – with the organization's biggest expenditure so far being the provision of new desktop computers for each of the schools in 2006 at a cost of US$8,000.
The organization raises funds through three main events. Namely: an annual boat ride that is executed in collaboration with a Grenadian association; Independence dinner and dance; and a bus trip to Atlantic City each year in May.
The seven primary schools that received donations were the Barrouallie Anglican School, the Sandy Bay Government School, Evesham Methodist School, Cane End Government School, Mary Hutchinson School (Union Island), Rose Hall Government and Layou Government.
Speaking on behalf of the head teachers who attended the handing over, head teacher of the Barrouallie Anglican School Adonis Charles expressed his sincere gratitude to Crick and the SVGNA.
"Resources such as ink and paper are high use materials and they are very expensive… We will put them to good use – our students are relying on us to provide the necessary help… Everything goes together to help deliver better education," enthused Charles.
Lou-Anne Gilchrist, chief education officer, also expressed her thanks to the SVGNA.
"The Government of St Vincent and the Grenadines appreciates the gestures of associations such as yours. We always make the point that we cannot exist or survive as a Ministry of Education without the valuable input of stakeholders such as you and your association," said Gilchrist.
"Our education system is based on equality and equity; and that our mission is to provide lifelong learning opportunities for all sectors of the population – starting at early childhood and moving into adulthood."
Gilchrist said that this donation is in keeping with the Government's initiative to reduce poverty through education; and mentioned another complementary initiative – the zero hunger initiative – which she encouraged other charitable organizations to contribute to.
"If your association can contribute in any way, in addition to what you're already doing, to achieve the target of zero hunger, then we will certainly appreciate it."
Also present at the handing over was Parliamentary Secretary in the Ministry of Education, National Reconciliation and Ecclesiastical Affairs Deborah Charles.
Thanking the association for its "timely donation", she added: "I am asking the principals here to ensure that teachers use them for the purpose for which they were given, so our children would be happy at the end of the day."
Also attending the event were Permanent Secretary, Ministry of National Security Godfred Pompey; senior education officers Yvette Antoine and Joycelyn Blake-Browne; as well as Evesham Methodist head teacher Verrol Richardson, Cane End Government head teacher Ave Weekes-Stephens, and Sandy Bay Government head teacher Hepcie Roberts.(JSV)