Posted on
Rumours of me resigning, suffering stroke all lies – Sir Louis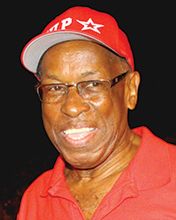 "These people have no morality, they have no sanity, they have no responsibility and they have no credibility."
This was the view of Parliamentary Represen­tative for Central Leeward and Deputy Prime Minister Louis Straker as he address­ed rumours that had been circulating that he is in ill health.{{more}}
Calling in to the 'Shake Up' radio programme on WEFM yesterday from New York, Straker asserted: "The rumours of my death have been greatly exaggerated. I am doing fine, I am well…
"The whole world knows that I was leaving St Vincent; I mentioned it in Cabinet and it would be in the Cabinet Minutes… to take care of some appointments I had since last year. If it were an emergency, I would have had to come last year," he also noted.
Straker further shared that he specifically chose this time to leave to get his yearly medical check-up.
"I wanted to come up in that interval between the Estimates and the Budget so I can take care; get my regular yearly check up that I pay for but more importantly to look after some dental problems because my dentures have become a little loose and that's why I could not speak at the Estimates time," he said.
He also mentioned that he had to pay a visit to his ophthalmologist, who had discovered a small cataract in his left eye.
The deputy prime minister also denied the allegation that he had to be flown out of St Vincent via air ambulance due to poor health.
"I left here on Friday last week. I worked in my office all day Friday and then I took the LIAT plane, flight 738 to Barbados to get the Jet Blue into New York. I walked off the plane, checked through immigration, checked through customs and I have no pain, no ache or anything," he said.
Additionally, Straker noted that since these rumours have been manufactured, he and his wife have been receiving calls from Canada and the United States asking about his alleged hospitalization.
Moreover, he said that it saddens him that in this day and age people still believe "every bit of lie put out by Nice Radio".
"People would grab it and they would propagate it and would run with it and take it as fact. Not even using their mental faculty of assessment and evaluate what they are saying; and what they are being told is nothing but a pack of lies."
He also denied the rumour that he had tendered his resignation to the Prime Minister.
"I would have had to give it [resignation letter] to the Governor General, who appointed me, but there is no such thing. There is no such thing…
"I am not sick, I don't have a stroke and I am not in the hospital. I am not at the point of dying… I am as fine as a pickle and I will be home in God's own time," Straker stated emphatically. (CM)