Posted on
Onu delivers address at launch of SVGS 2016 Young Leaders project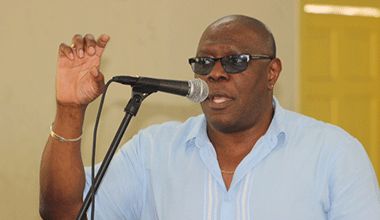 Fourth and fifth form students of the St Vincent Grammar school received inspirational words to live by this week, when Dr Ken Onu delivered the feature address at the launch of the school's 2016 Young Leaders Programme.{{more}}
On Monday, the school unveiled its project for the long running RBC sponsored secondary schools competition, under their theme "Me. You. We."
Onu, an ophthalmologist by profession, spoke to the young men, as well as adults in the room, on the topic "Recreating Reality," during which he imparted useful mantras, such as "You were born to make a difference," "The best time in your life is right now," and "If you do today what others don't, you will have tomorrow what others won't," among other inspirational affirmations.
Using anecdotes, jokes and crowd participation, he pointed out to his listeners that they can recreate their reality by following some simple steps, which include forgetting the negative past and moving forward towards their goals, coming from a place of love, rather than hatred and negativity, and surrounding themselves with more positive people and habits.
Onu, who indicated that he was highly impressed by the receptiveness of the students, said that he is considering visiting more schools throughout the length and breadth of St Vincent and the Grenadines, in an effort to motivate the students into making more positive impacts on society.
Apart from his career and motivational speaker, Onu is also a very active Rotarian and Toastmaster.