Posted on
Kingstown clean-up must not be one-off thing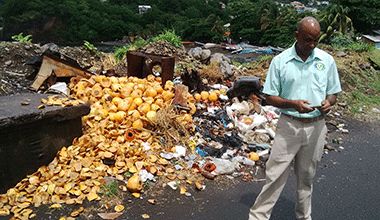 The clean-up of Kingstown promised by Minister of Works Julian Francis has begun, much to the relief of all. However, the current efforts cannot be one-off and a monitoring and action plan must be devised and implemented to ensure that garbage is not allowed to pile up in certain hot spots around Kingstown and that the daily cleaning by workers of the Public Health Department is thorough.{{more}}
It's also time for the authorities to make public examples of the people who continue to break the law by bringing charges against them, so that they pay the penalties prescribed by law.
Two such hot spots in Kingstown are shown in the accompanying photographs. The first is an area on the foreshore in the Lower Bay Street area, near to the Agricultural Input Warehouse, where sidewalk vendors continue to illegally dump coconut shells and other waste. Despite the best efforts of the Public Health Department and the Solid Waste Management Unit (SWMU), who regularly clean the area, the illegal dumping continues.
Another area of grave concern is a private lot of land opposite Mountain Top Springs at Lower Middle Street. This site is of grave public health concern, as the plot is not only used as a garbage dump, but as a urinal and toilet by passers-by and the homeless.