Posted on
Grammar School Young Leaders launch project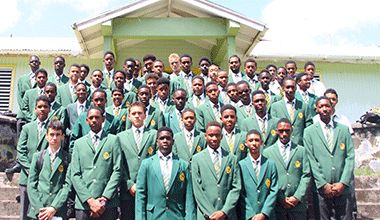 Defending Young Leaders Champions, the St Vincent Grammar School (SVGS), yesterday launched their 2016 programme under the theme: "Me…You…We…: A shared vision for a better society," with the sub theme: "#KnowYourselfKnowYourWorth."{{more}}
According to Headmaster of the school Curtis King, who spoke at the launch, the young leaders programme is designed to help young people realize their talents.
"…They could bring out the talent that they possess, especially their talents of leadership, especially their talents in team work and…their talents in time management."
King told the students that the theme, "Me…You…We: A shared vision for a better society," could not have come at better time, especially with the divide in society of 'we versus them'.
"As a society, as a people, we need to change our discourse; we need to change the narrative that we have, because everything from the school to the community, to the wider society is we versus them.
"So at school, we students versus them teachers; in the wider community out there, we in this gang versus they in that gang over there…in our political system, it is the same we, we NDP versus them ULP," King further stated.
The headmaster also stated that narrative of 'we versus them' is becoming old and adds no value to society or the people.
"When we start making this 'we and them separation,' we are failing to unite for a common purpose; we are failing to bring about positive changes as a collective entity. Once we start using this we versus them, we are allowing ourselves to be fragmented and being fragmented we know would lead to a decline in all the things that we want…"
He stated that he is looking for the students to not just "mouth the theme but to try to live the theme."
"…The essence of your participation in this programme is not just to win, but to ensure that you leave footprints that would have a positive impact on those who follow after. It is to ensure that you leave footprints that others can identify and say I would like to identify with these positive footprints."
Featured speaker Dr Kenneth Onu encouraged the Young Leaders to develop a positive attitude and use the theme to further develop themselves.
"The theme is me, you, we and it's all about being strong, understanding that our self-esteem, our self-image, our self-confidence is what would take us to where we want to go. Even if we don't do so well in the beginning, if we have intact self-esteem, intact self-image and intact self-confidence, we have to get to where we want to go."
He offered the students some steps which will in turn change the attitude with which they go through life.
"You have to hang around the right people…number two you have to understand…that you always have to come from a place of love…and most importantly, you always want to understand that you have to have an attitude of gratitude…you have to learn forgiveness," Onu noted.
President of the SVGS Young Leader group Shane Cadogan told his colleagues that the aim of the project is to empower others by the projects that they will be implementing.
"These projects will be geared to influence and ameliorate some of the challenges faced on a daily basis by students from pre-schools to primary schools to secondary schools; by the homeless, the physically and mentally challenged and by our senior citizens.
"We will remember that the way we see ourselves, our point of view, our frame of reference and our beliefs will create a paradigm, which is like a pair of glasses through which we will see our world," he also stated.
Cadogan also noted that through their projects their main goal "is to improve our nation, which will surely be achieved as we try to merge the 'Me, You into We' and create a shared vision for a better society."
Past president of the Young Leaders and current head boy Alron Harry noted that from his experience he was able to represent St Vincent and the Grenadines in the Youth Ambassador Programme.
The Youth Ambassador programme is an exchange programme which brings together high school students and adult mentors from high schools across the Americas to promote mutual understanding, increase leadership skills and prepare youth to make a difference in their communities.
Harry noted that the experience has helped to shape him into the young man he currently is.
"I am very grateful for the opportunity to take part in this programme. The skills learnt were very useful to me as head boy of this institution. I have been empowered to deal with different kinds of people in different kinds of situations."
He also offered his and the help of the former executive help to the new members of the St Vincent Grammar School Young Leaders.
Representative from RCB Keishorn Browne also made remarks.
Entertainment for the launch was provided by panist and 2016 Young Leader Saeed Bowman.
Persons interested in finding out more about the St Vincent Grammar School Young Leaders project can follow their Facebook and Instagram page "svgs young leader 2016" and also the website www.svgsyoungleaders2016.tk. (CM)