Posted on
Vincentian senator gets 'Best Lecturer' award at Arthur Lok Jack School of Business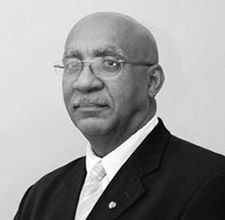 For the second consecutive year, Dr Julian Ferdinand has been named the Best Lecturer at the Arthur Lok Jack Graduate School of Business (ALJGSB), University of the West Indies (UWI), St Augustine, Trinidad and Tobago.{{more}}
Ferdinand received his award at the school's graduation ceremony for the 2015 graduating class at the Hyatt Regency Hotel in Port of Spain, Trinidad, on Saturday, January 30, 2016.
A total of 391 graduates received their certificates, having successfully completed courses at the Master's in Business Administration (MBA) and Doctorate in Business Administration (DBA) levels.
The ALJGSB offers programmes to participants in Trinidad and Tobago, Guyana and Suriname. Local, regional, and international lecturers facilitate these courses and are assessed based on the quality of their presentations (content and delivery) and the guidance they provide to the participants. The participants are required to evaluate the lecturers twice during the trimester. The private and confidential surveys assess the relevance of the material presented, the programme's rigour, the facilitator's command of the subject area, the learning outcomes, the lecturer's delivery, and the quality and timeliness of the lecturer's feedback. The Best Lecturer award is presented to the lecturer who assesses the highest average score during the academic year.
Ferdinand said he is grateful to God, his family, colleagues, friends, students, and the staff at ALJGSB for the encouragement and support they provided throughout the academic year.
He is one of two senators representing the New Democratic Party (NDP) in the Parliament of St Vincent and the Grenadines.