Posted on
Agriculture receives $6 million boost in 2016 budget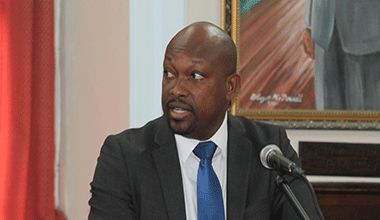 The Minister of Agriculture, Forestry, Fisheries and Rural Transformation has declared that the $6 million increase allocated to his Ministry in the 2016 Budget Estimates is reflective of the "critical and important role" that it continues to play in the development of St Vincent and the Grenadines.{{more}}
Last Friday, during the laying of the 2016 Estimates of Revenue and Expenditure in Parliament, Saboto Caesar divulged that his Ministry has been budgeted a total approved sum of $46,889,742.
"These figures are geared at economic growth," asserted Caesar.
"We have a very important part to play in ensuring that we bring meaning to these figures."
Within that total allocated sum, $20,200,642 will go to recurrent expenditures and $26,689,100 to capital expenditures.
Recurrent expenditure within the Ministry includes nine projects – six of which have seen increases in budget allocation on the 2015 Budget Estimates, and three have seen a decrease.
The largest increase (128.8 per cent) was seen in funds allocated to the La Soufrière Monitoring Unit programme. Other projects include a research and development programme, and the management of the Black Sigatoka disease, among others.
Projects under capital expenditure for 2016 include: improvement of fisheries machinery and equipment; agricultural organization and development programme; farmers' support fund; reforestation programme; arrowroot industry revitalization programme; upgrading of the plant and animal health laboratory facility; and rural development/community infrastructure under the Basic Needs Trust Fund.
Caesar also noted that tenders have already been received and evaluated for several initiatives, which include: construction of five roads, upgrading of the privatization facility at Langley Park, construction of farm infrastructure for banana and livestock farmers, establishment of three greenhouse parks, the rehabilitation of the Rabacca rehabilitation system, and the construction of a food science laboratory at the Technical Division of the SVG Community College.
Additionally, he mentioned that there will be "significant benefits" that will be seen by the Fisheries sector within SVG – with some $10 million being allocated to upgrading machinery and equipment. (JSV)