Posted on
Thomas, James attend CELAC meet in Ecuador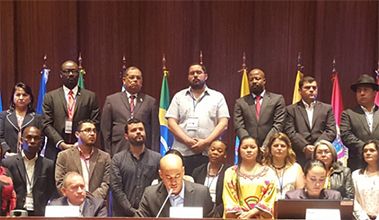 The forum, which seeks to strengthen relations among member countries, agreed on a manifesto, which was presented to CELAC leaders when they met in Quito on Wednesday.
As part of the forum, the CELAC Parliamentary Group adopted CARICOM's call for reparations for native genocide and the enslavement of African people in the Caribbean through the Trans Atlantic slave trade.
The presentation was put forward by SVG through speaker Jomo Thomas, while the final clause on the motion adopted by the parliamentary grouping was drafted and submitted by senator and deputy speaker of the House of Assembly Carlos James.
Thomas, who is also chair of the local Reparations Committee, acknowledged that CARICOM as a regional bloc had agreed on the call for reparatory justice and urged the CELAC parliamentarians to join the cause in solidarity with CARICOM.
The grouping of parliamentarians also agreed on a common agenda, focused on the defence, protection and the promotion of the independence, sovereignty, socio-economic and political union of Latin America and the Caribbean.
During his presentation at the meeting James noted that the Government and people of SVG continue to call for stronger ties with Member States of CELAC.
"We are facing external challenges as a regional bloc, including the effects of climate change, the global economic crisis and the recent economic war against the government and people of Venezuela. Our desire is to deepen south-South cooperation and strengthen our relations as a bloc," James noted.
"On behalf of the people of St Vincent and the Grenadines and our esteemed Prime Minister, Dr the Honourable Ralph E Gonsalves, we are happy to join in solidarity with our fraternal comrades across Latin America and the Caribbean Union in deepening relations across our national assemblies for the protection and promotion of our democracy and sovereignty as independent countries," James said.
Tuesday's meeting was held ahead of Prime Minister Gonsalves' visit to Ecuador on Wednesday for the CELAC meeting.
The Community of Latin American and Caribbean States (CELAC) is a regional bloc of 33 Latin American and Caribbean states. It was formed on February 23, 2010. The organization aims to unite all of the Latin American and Caribbean states in order to strengthen the political, social and cultural integration of the region, improve its quality of life, stimulate its economic growth, and advance the well-being of all of its people.
The 33 countries who make up CELAC are: Anti­gua and Barbuda, Argen­tina, Bahamas, Barba­dos, Belize, Bolivia, Brazil, Chile, Colombia, Costa Rica, Cuba, Dominican Republic, Dominica, Ecuador, El Sal­vador, Grenada, Guatemala, Co-operative Republic of Guyana, Haiti, Honduras, Jamaica, Mexico, Nicaragua, Panama, Paraguay, Peru, Saint Lucia, Federation of Saint Kitts and Nevis, Saint Vincent and the Grenadines, Suriname, Trinidad and Tobago, Uruguay, Venezuela.